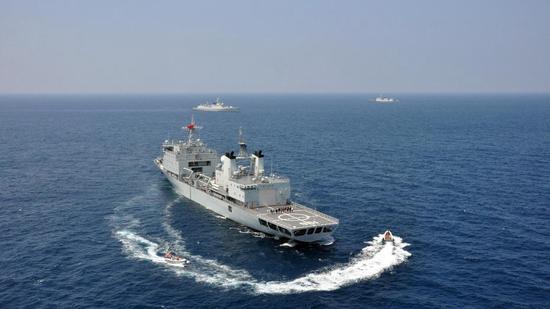 A Chinese Navy ship took part in a China-Russia joint military exercise in September 2016. /Xinhua Photo
The spokesman of China's Taiwan Affairs Office on Tuesday dismissed Taiwan authorities accusations, saying the military exercises around Taiwan were part of annual routines aimed at maintaining the cross-Strait peace and stability.
Ma Xiaoguang confirmed that warships, bombers and aircraft were sent to conduct drills in the water around the Taiwan Island on Monday. The goal of the drill was to practice a "combined firepower assault" that included electronic jamming from aircraft under the protection of fighter jets, the People's Liberation Army Daily reported.
Ma said Monday's exercises were part of routine annual exercises, aimed at safeguarding national sovereignty and territorial integrity, as well as cross-Strait peace and stability.
No one or any party should underestimate China's determination and capability to defend national sovereignty and territorial integrity, Ma added.
On Tuesday, Taiwan's leader Tsai Ing-wen said such drills are threatening regional stability, and Taiwan is not intimidated by them.
Ma urged Taiwan's Democratic Progressive Party (DPP) not to provoke antagonism between the mainland and Taiwan. He said Taiwan authorities should stop misguiding local people and escalating tensions, and stop provoking hostility between people on both sides. Such attempts would not succeed, he said.