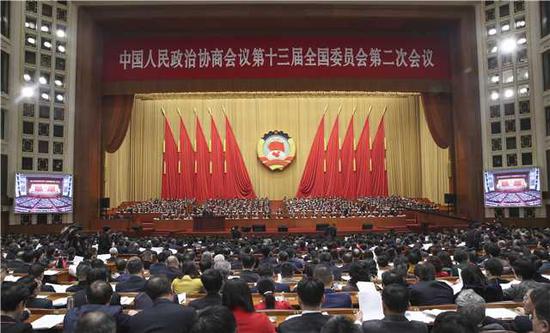 The second session of the 13th Chinese People's Political Consultative Conference (CPPCC) National Committee starts in Beijing, March 3, 2019. (Photo by Zou Hong/chinadaily.com.cn)
Special: NPC, CPPCC Sessions 2019
Based on in-depth study, political advisers will also engage in consultations on issues that concern the interests of the public, including creating jobs, boosting the sharing economy, revising the Copyright Law, developing the Grand Canal Cultural Belt, training schoolteachers and developing a system for elderly care services, he said.
Wang Daming, a CPPCC National Committee member and a doctor at Beijing Hospital, said that to better fulfill his duty he will do more practical work this year and make quality proposals a priority over quantity.
"Making precise and proper suggestions requires thorough study, and surveys are fundamental," he said.
He visited six impoverished counties in two provinces last year to conduct a survey about how to improve medical conditions and relieve poverty.
Delivering the work report, Wang Yang also said that this year, the top political advisory body will continue to carry out international exchanges and high-level visits and will create new ways of conducting public diplomacy and people-to-people and intercultural exchanges.
Events to be held include the 17th session of the Sino-EU Round Table, the Belt and Road Seminar for International Cooperation and the International Seminar on Peaceful Dialogue between Different Religions.
Last year, for the first time, diplomats from 41 African countries and representatives from the African Union visited the CPPCC National Committee and attended forums to learn more about China's political advisory system.