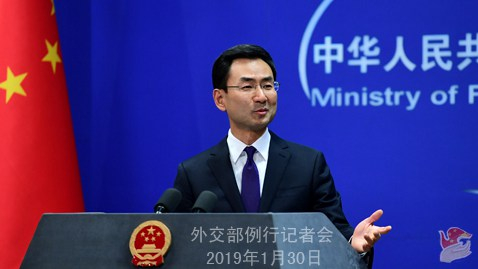 Chinese Foreign Ministry spokesman Geng Shuang at the daily briefing, January 30, 2019, Beijing. [MOFA photo]
China called on the United States to abandon its outdated zero-sum game mentality, and stop viewing major-country relations from a confrontational perspective.
Chinese Foreign Ministry spokesman Geng Shuang made the call Wednesday at a news briefing in response to a "China poses the greatest threat" comment made by the U.S. National Intelligence Director Dan Coats on Tuesday.
During the Senate Intelligence panel in an annual hearing, Coats pointed out that China, along with Russia, "pose the greatest espionage and cyber attack threats" to the U.S. and are more aligned than they have been in decades.
"The U.S. is the world's most powerful country with unparalleled military power. If the U.S. still feels prevailing threats from all directions, then how should other countries react? I do not know where this strong sense of insecurity comes from," Geng noted.
"China has been consistently advocating the establishment of a new security concept of sustainability and cooperation. We hope that the U.S. can align itself with the trend of the world and the will of the people to jointly safeguard global peace and security," Geng added.
He stressed that "there is no absolute security in the world, and the security of a nation should not be based on the insecurity of others."