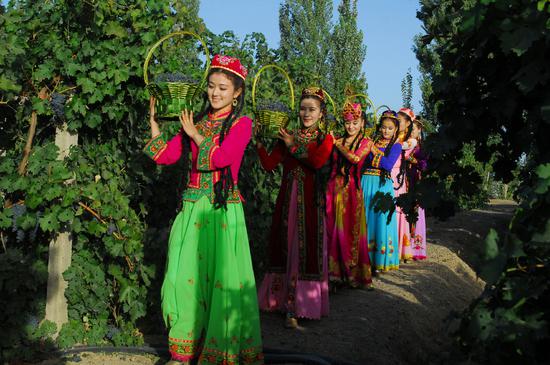 Women dressed in colorful outfits perform at the 27th Silk Road Turpan Grape Festival in Turpan, Northwest China's Xinjiang Uygur autonomous region, Sept 3, 2018. (Photo provided to Chinadaily.com.cn)
Long-term security and stability are region's top priorities, chairman says
The Xinjiang Uygur autonomous region will maintain pressure against terrorist activities and make frequent terrorist attacks in the region a thing of the past, the chairman of the regional government said on Monday.
"We should get prepared both mentally and in our operations that maintaining social stability is a long-term task ... and the anti-terrorist measures proven effective should be carried on and social governance further improved," Shohrat Zakir, chairman of the region, said in delivering the government work report to the annual session of the regional people's congress, which started on Monday in Urumqi.
The central government has made maintaining social stability and long-term security the region's top priority. Currently, Xinjiang is generally stable and has created a harmonious environment for economic development, Shohrat said.
Huang Sanping, a senior official of the regional government, said, "No terrorist attacks have happened in Xinjiang for 25 months. A series of measures adopted by the regional government have taken root."
Xinjiang has begun to enjoy the dividend of effective counterterrorism efforts, receiving more than 150 million visits from tourists in 2018, an increase of 40 percent year-on-year. Tourism is expected to play a strategic role in the region's economic development this year. Xinjiang, which is well known for its grand natural beauty, set a target for tourism growth this year at 40 percent, Shohrat said.
The region, which covers one-sixth of China's territory, plans to improve its transportation infrastructure, including roads, railways and aviation. The current lack of infrastructure restricts the development of tourism, he said, adding that visitors may find it difficult simply to find toilets, gas stations and parking spaces.
"We want tourists from home and abroad to enjoy their time in Xinjiang and make them want to stay," he said.
The region will continue its efforts to eliminate extremism and expose those who secretly support terrorism, extremism and separatism, Shohrat said.
"We will make being hit by frequent terrorist attacks a thing of the past and end the era when separatist forces rampaged in the region. More important, we will make the times that people had no sense of security become history."
Since the 1990s, terrorists, extremists and separatists in China and abroad have plotted, organized and conducted thousands of violent terrorist attacks including bombings, assassinations, poisonings, arsons, assaults, unrest and riots, causing the deaths of a large number of innocent people and hundreds of police officers, as well as immeasurable property damage, Shohrat said during an interview in October.