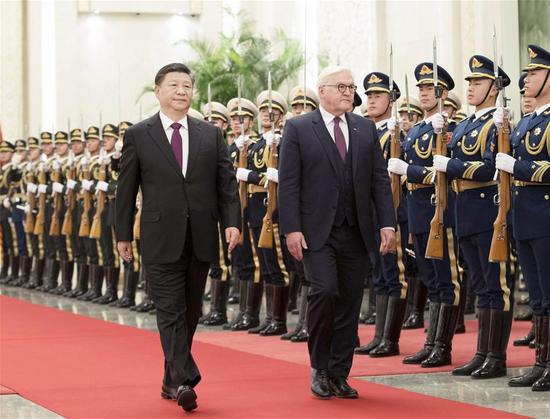 Chinese President Xi Jinping (L) holds a welcoming ceremony for German President Frank-Walter Steinmeier before their talks at the Great Hall of the People in Beijing, capital of China, December 10, 2018. /Xinhua Photo
Chinese President Xi Jinping and his German counterpart Frank-Walter Steinmeier agreed on further cooperation between China and Germany to generate outcomes that could benefit peoples from both countries and the rest of the world.
The two leaders reached the consensus during a meeting on Monday in Beijing.
Noting that the global situation is currently going through complex and deep changes, Xi said both sides share similar opinions on many issues.
Xi made several proposals to bring the two countries closer, including strengthening the China-Germany partnership by solidifying mutual understanding and trust, keeping the vitality of bilateral ties by adhering to opening up and collaboration in innovation, and working together on the Belt and Road Initiative (BRI) to expand room for cooperation.
More cultural and people-to-people exchanges in areas like education, youth, and sports, as well as moving forward global governance and co-building an open global economy were also among the proposals.
Xi pointed out that this year marks the 40th anniversary of China's reform and opening up, adding German enterprises have already gained an advantage in China's new round of opening up.
We are willing to share development dividends with other countries including Germany and we hope Germany could continue to be open to China's investment, Xi said.
Regarding the BRI, Xi said China is ready to seek active discussions about three-party cooperation with Europe and Germany and push forward the coordination between the BRI and EU's Eurasia connectivity strategy. He also emphasized the prospect of building the China Railway Express with Germany and countries along the route.
Xi also expressed China's willingness to defend free trade and multilateralism with Germany and Europe.
In speaking with Xi, Steinmeier revealed his admiration for China's achievements in the past 40 years, particularly those in poverty alleviation.
He echoed Xi's proposals about fortifying communication, deepening cooperation, and safeguarding free trade.
He also promised that Germany will keep contributing to the win-win cooperation between China and Europe to boost the connectivity in the Eurasian region.
Before the two held talks, President Xi held a welcoming ceremony for Steinmeier at the Great Hall of the People.
On Monday, Chinese Premier Li Keqiang also met with the German president.
Li pointed out that China is further opening up, and a series of new measures are being put into practice.
"Germany's auto, chemical and financial enterprises have become the first beneficiaries," Li noted, adding China and Germany have broad common interests.
Steinmeier reciprocated by saying Germany is willing to further expand bilateral trade and investment, strengthen dialogue between the two sides, and jointly safeguard free trade and the existing international order.
Steinmeier is on a six-day state visit to China from December 5 to 10 at the invitation of President Xi, which marks the first of its kind since he became Germany's president in March 2017.