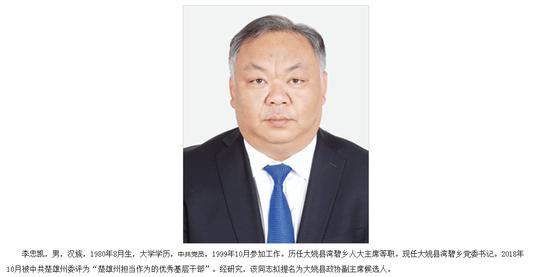 A screenshot of Li Zhongkai's profile photo.
A 38-year-old government official from Chuxiong City, southwest China's Yunnan Province has been a topic of discussion on Chinese social media, with many finding it hard to believe the grey-haired official is in his 30s. 
The conversations were triggered by a profile photo posted on the local government's official website. 
According to his biography, Li Zhongkai, who currently works as a local secretary of the party committee in Wanbi town of Dayao County, was born in the year of 1980. 
However, with his grey hair, many questioned whether he was in fact 38. 
Due to the overwhelming doubt about Li's age, the local government later confirmed on Friday that the profile photo was indeed of the 38-year-old Li. A colleague of Li also told the media that Li's hair turned grey due to the heavy workload sometime between 2011 and 2014.
Li has been reportedly working as a civil servant since he graduated at the age of 19. Dayao County, one of the poorest counties in Chuxiong City, has very tough and poor working conditions and he has been working in the poverty alleviation department since 2012.
In an interview with The Paper, Li responded that he was surprised about his photo going viral on social media and explained that he was too busy to dye his hair black before taking the profile photo due to a tight schedule. In fact, he didn't even realize that his hair had turned grey.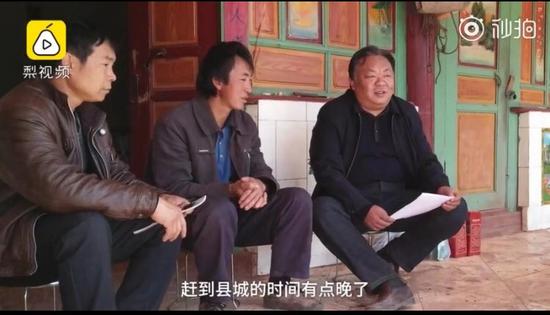 Li explained that he was too busy to dye his hair black before taking the profile photo due to a tight schedule. /Screenshot from Pear Video
With the newfound attention, Li said he hoped the public could pay more attention to all those civil servants who work diligently in the front lines and wished for more recognition and understanding for their work.
Despite being the butt of jokes, others took the opportunity to push the conversation towards Li's job, rather than his looks.
"Dayao County is one of the poorest counties and the town he works in is even worse, but he has been working here for six years. Considering all the heavy workload of poverty alleviation, he deserves all our respect," wrote @yuanhaizipingmingli on Weibo, China's Twitter-equivalent.
"Working at the grassroots level as a civil servant is really tough. And it is hard for others to imagine how stressful the work could be, especially when he is a local party committee secretary," commented a user @Pitayamumuda on Weibo.
From 2014 to 2017, a total of 3,958 people were lifted out of poverty in the town where Li worked, Li told The Paper, adding that this year's goal was to lift 2,301 people out of poverty.