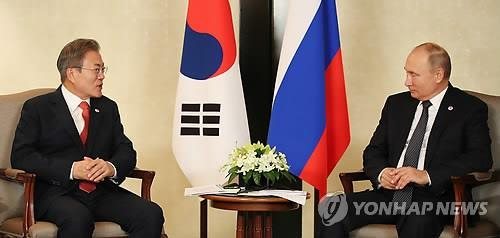 ROK President Moon Jae-in and his Russian counterpart Vladimir Putin hold talks in Singapore on November 14, 2018. /Yonhap News Agency
Republic of Korea (ROK) President Moon Jae-in met his Russian counterpart Vladimir Putin and discussed easing sanctions on Pyongyang, Yonhap reported.
The two leaders met on the sidelines of the Association of the Southeast Asian Nations (ASEAN) summit in Singapore, Moon's office said.
Moon asked Moscow to take an active role in efforts to persuade the Democratic People's Republic of Korea (DPRK) to speed up denuclearization, according to Moon's presidential office.
The two leaders had "comprehensive" discussions on the terms and conditions of easing sanctions on the DPRK, it said.
Putin told Moon that there should be reciprocal measures if there is progress in denuclearization.
The US-DPRK denuclearization talks appeared to be stalled after a high-level meeting between the US and the DPRK was called off last week.
US Secretary of State Mike Pompeo was scheduled to meet senior DPRK official Kim Yong Chol in New York last Thursday and it was postponed at the last minute.
Seoul's Unification Minister Cho Myoung-gyon is in the US this week aiming to push for the talks between Washington and Pyongyang.
The allies, the ROK and the US, are split on the process of easing sanctions. Moon's government has been attempting to persuade Washington that an improvement of inter-Korean relations could benefit the denuclearization process and asked the US to cooperate in easing sanctions on the cross-border projects, while Washington doesn't seem to buy it.
Meanwhile, Yonhap reported that there are expectations that DPRK leader Kim Jong Un will visit Seoul this year and have the fourth summit with Moon.
The two sides have sped up talks on humanitarian, logistics and economic issues after the third summit between the two leaders in Pyongyang. They are working to expand cross-border changes and reduce tension.
On Friday, the two sides will hold working-level talks on aviation cooperation, and a possible agenda would be the opening of a direct air route between the two.
They are also working to destroy 20 guard posts in the Demilitarized Zone to reduce border tensions.