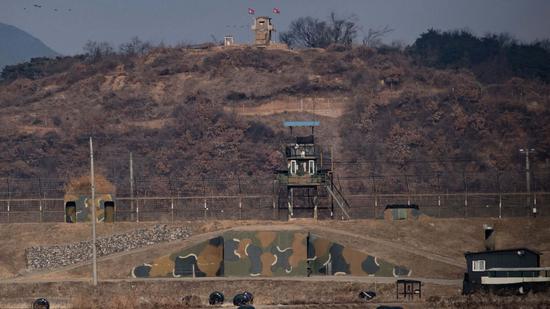 The Democratic People's Republic of Korea (DPRK) and the Republic of Korea (ROK) began destroying 20 front-line guard posts on Sunday under a plan to reduce tensions on the border, Seoul's defense ministry said.
Under an agreement made between their generals, the two sides agreed to each remove 10 posts and preserve one on either side of the frontier.
According to Yonhap, ROK has around 60 such posts along the rest of the border while the DPRK has about 160.
Under ROK President Moon Jae-in, Seoul has pursued a policy of engagement with its neighbor, in contrast with the US which insists pressure should be maintained on Pyongyang until it denuclearizes.
Moon and DPRK leader Kim Jong Un agreed on a broad plan to ease tensions along the border during their third summit in Pyongyang in September.
The two nations technically remain at war after the 1950-53 Korean War that sealed the division of the peninsula and ended with a ceasefire instead of a peace treaty.
But ties improved markedly this year as Moon and Kim took a series of reconciliatory gestures.
Kim and US President Donald Trump also held a historic summit in June in Singapore and signed a vaguely worded deal on denuclearization, but little progress has been made since then, with the two countries sparring over the exact meaning of the agreement.
Planned talks between US Secretary of State Mike Pompeo and one of Kim's right-hand men, Kim Yong Chol, were also delayed this week.
(With input from AFP)