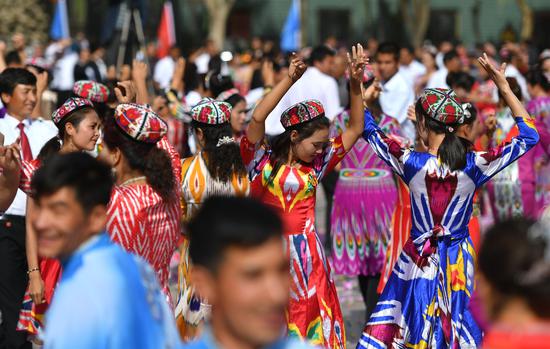 Nearly 10,000 residents dance in local Dolan Maxrap folk style in Awat county in the Xinjiang Uygur autonomous region on Oct. 9, 2018. (Photo/CHINA NEWS SERVICE)
"Not a concentration camp, but a vocational skills education training institution, which aims at the prevention of terrorism and extremism," Chinese Foreign Ministry spokeswoman Hua Chunying refuted reporters at a regular press conference on Friday.
Earlier this week, BBC reported the vocational programs in Xinjiang as a so-called detention center.
Hua stressed that the purpose of vocational programs in Xinjiang is protecting the basic human rights of the people from terrorism and extremism to the maximum extent, which is essentially the same as the methods taken by the UK, France and the U.S..
The British government launched a counter-terrorism strategy in June, emphasizing early intervention for those affected by extremist ideas, Hua offered the example, adding that France also announced in 2016 that it would set up de-extermination centers in 12 regions of the country to help its citizens affected by extremism.
The U.S. is also trying to use community correction to rehabilitate young people affected by extremist ideas, she said.
"The Chinese government has resolutely taken measures in preventing and combating violent terrorist crimes in accordance with the law."
Fighting terrorism and de-radicalization are two worldwide challenges and countries should uphold the same standards on the issue of preventive counter-terrorism and de-radicalization measures, Hua noted.
She said that all parties should strengthen exchanges on the issue and understand each other's measures taken to safeguard social tranquility in their own countries.
As the accusations by a U.S. senator that China is severely violating the human rights of religious minorities, Hua responded that it is an undeniable fact that the people of all ethnic groups in China enjoy full freedom of religious beliefs in accordance with the law.
In a recent op-ed in Politico Magazine, U.S. Senate Judiciary Committee Chairman Chuck Grassley accused China of massively violating the human rights of its religious minorities, saying that fighting for religious liberty should be a central part of the U.S.-China relationship.
Citing poll statistics from Gallup and Pew, Hua said that 42 percent of U.S. citizens are extremely concerned about ethnic relations in the country, 58 percent of respondents saying they believe racism is a serious problem and 75 percent of American Muslims saying there is a lot of discrimination against Islam in the country.
A quarter of African Americans and one-tenth of Latinos, meanwhile, said they had been harassed based on their race or ethnicity.
China hopes that certain Americans can objectively and comprehensively acknowledge their own problems to do with religion and ethnicity, and do more constructive things to promote mutual understanding, trust, friendship and cooperation between the two countries, Hua said.
(With inputs from Xinhua)