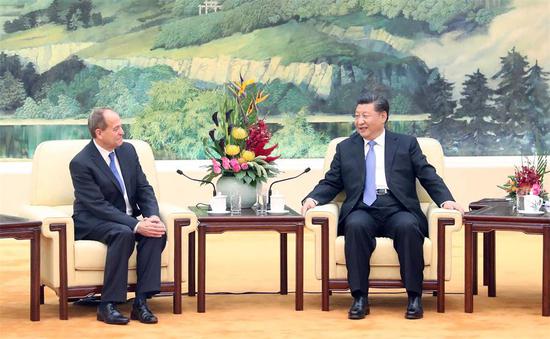 President Xi Jinping met with Stephen Perry, chairman of The 48 Group Club, a British organization composed of company leaders promoting Britain-China trade, at the Great Hall of the People in Beijing. (Photo/Xinhua)
Special: 40YearsOfReform
President Xi Jinping reaffirmed China's stance on supporting free trade and economic globalization while meeting with a British delegation on Tuesday.
Xi met with Stephen Perry, chairman of The 48 Group Club, a British organization composed of company leaders promoting Britain-China trade, at the Great Hall of the People in Beijing. The group provides consultancy services to British companies entering China's markets.
Xi spoke highly of the effortsmade by Jack Perry — the late founder of the pioneering London Export Corp and father of Stephen— in the 1950s when the British entrepreneur led a group of 48 businessmen from the United Kingdom to visit China despite the trade barriers with the West during the Cold War.
The trip became known as the "Icebreaking Mission", and the club members called themselves "icebreakers". The 48 Group Club now has more than 500 members.
"It was a remarkable move," Xi said, while commenting on the icebreaking trip made by the British business delegation "in those difficult times".
Their historic trade mission, which helped initiate the exchange of items ranging from grain and copper to machinery and medicines, established one of the first modernday trade links with the outside world after the founding of the People's Republic of China in 1949.
"I believe that very ice-breaking mission is not only of historic significance, but also of real relevance," Xi said.
I'm glad to see that the new generation of icebreakers, represented by The 48 Group Club, is continuing to engage in the China-UK friendship with enthusiasm, Xi said.
Noting that this year marks the 40th anniversary of reform and openup, Xi said that China's economic development achieved great progress over the past four decades, which has made the country more determined to open up.
China proposes that countries should enhance communication and boost understanding in global affairs to avoid misunderstandings, Xi said, adding that China will not seek hegemony.
Perry said that the 19th National Congress of the Communist Party of China, completed a year ago, has drawn a blueprint for the country's development in the future.
Perry spoke highly of the Belt and Road Initiative and the idea of building a community with a shared future for mankind, saying that he would like to promote China-UK cooperation under the BRI framework.