Chinese Premier Li Keqiang will pay an official visit to Tajikistan this week while attending the 17th meeting of the Council of Heads of Government of the Shanghai Cooperation Organization (SCO) in Dushanbe. Documents on trade, customs, and local cooperation between the two countries will be signed according to Chinese Foreign Ministry officials at a press briefing on Tuesday.
Premier Li's first visit to Tajikistan
The upcoming visit will be Li's first time to visit Tajikistan. The bilateral comprehensive strategic partnership will go deeper, Assistant Foreign Minister Zhang Hanhui said during the briefing.
"Li will discuss with Tajikistan leaders on development of bilateral ties under the new situation, the Belt and Road construction, and important international and regional issues, " Zhang said.
Solid bilateral relations
Tajikistan is the first country to sign a memorandum with China on building the Silk Road Economic Belt. The two countries enjoy a high degree of political mutual trust and a solid foundation for the expansion of bilateral relations as well as for trade and economic cooperation.
China and Tajikistan do not have any historical issues and actual divergences, and they support each other on issues involving their core interests, Chinese Ambassador to Tajikistan Yue Bin said to Xinhua News Agency in a recent interview, hailing the solid friendship between the two peoples.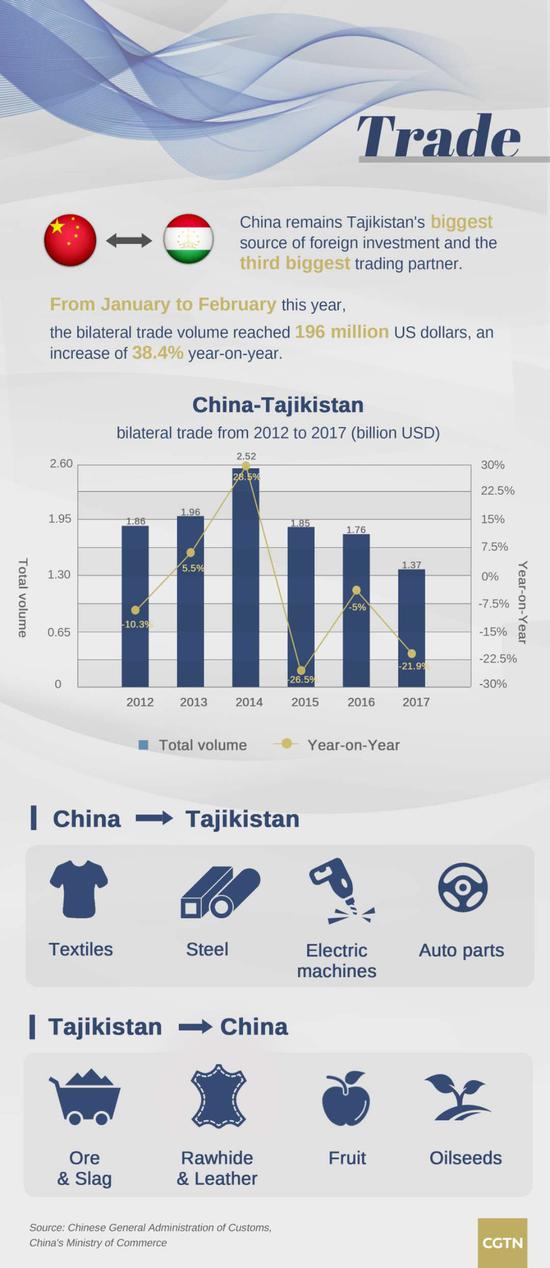 Synergy in development strategy
Tajikistan pledged to strengthen the synergy between its national development strategy and the China-proposed Belt and Road Initiative (BRI).
During the 18th SCO summit in Qingdao this year, President Emomali Rahmon of Tajikistan said he is willing to align the country's development strategy for the period up to 2030 with the BRI, and expand bilateral cooperation in infrastructure, agriculture, science and technology and other fields.
Fruitful military exchanges
Recent years, China and Tajikistan have seen deepened military exchanges and cooperation as well as fruitful results in defense and security cooperation in multilateral fields.
When meeting with a Chinese military general last month, Rahmon said Tajikistan is willing to work closely with China on regional affairs, strengthen military security cooperation under the framework of the SCO, and deepen cooperation in the field of defense and security.
Rapid pragmatic cooperation
China is Tajikistan's biggest source of foreign investment and the third biggest trading partner. The two countries have actively taken measures to facilitate economic cooperation.
The Chinese investment involves many areas in Tajikistan, including the three priority sectors - energy, transportation and agriculture, Yue noted.
Project investment and enterprises cooperation have achieved fruitful results between the two countries. In 2016, Chinese enterprises signed 67 contracts for conducting projects in Tajikistan.
Meanwhile, the two countries are actively engaged in industrial capacity cooperation with several industrial parks steadily established such as Zhongtai New Silk Road Agriculture and Textile Industrial Park built in 2014.
(With inputs from agencies)