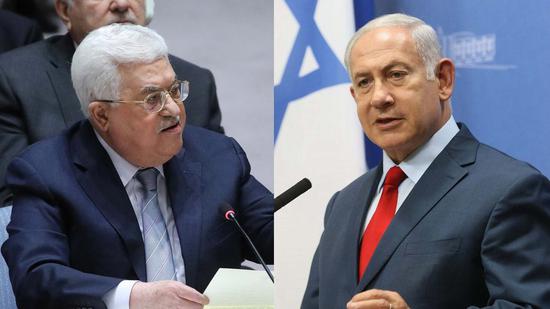 On Thursday, Palestinian leader Mahmoud Abbas and Israeli Prime Minister Benjamin Netanyahu are due to address world leaders gathered in New York for the annual UN General Assembly (UNGA).
Traditionally, both sides have used this opportunity to press their agenda, with the Palestinians pushing for official recognition, and Israel making the case for security.
Recent developments however, including the U.S. decision to move its embassy to Jerusalem and to cut funding to the UN agency for Palestinian refugees UNRWA - prompting Palestinians to sever ties with Washington - have shaken up the situation on the ground and raised the stakes in the Middle East.
So what can we expect from this year's face-off at the UN?
Palestinians - Statehood and membership
Mahmoud Abbas's speech will hold few surprises but will deliver "a very strong statement," a Palestinian official told Abu Dhabi-based newspaper The National.
In past UNGA addresses, Abbas has repeatedly called for recognition of the state of Palestine, full UN membership, an end to Israeli occupation and concerted international efforts to reach a two-state solution in the Middle East.
His address on Thursday will be similar to proposals he made at the UN Security Council in February, included a call for an international peace conference, Palestinian Foreign Minister Riad Al-Malki told Maan news agency.
Other Palestinian officials have warned however that Abbas will call on the international community to save the two-state solution or he will be forced to make "difficult decisions," such as ending recognition of Israel or declaring Palestine a "state under occupation," according to the Times of Israel.
The UN is where Palestinians have scored some of their biggest diplomatic victories in recent years. In 2012, the UNGA accorded them "non-member observer state" status. The name displayed on the delegation's desk in the General Assembly Hall now reads "State of Palestine." And in 2015, the Palestinian flag was raised in front of UN headquarters in New York, alongside those of member states.
Israel - A right to exist
Israeli Prime Minister Benjamin Netanyahu's speech on Thursday is expected to focus mostly on Iran, as he has done in the past, and there are few clues as to what he might say about possible Middle East peace talks, which have been stalled since 2014.
In the past, he has routinely reaffirmed his country's commitment to peace, insisting he was ready to sit down for immediate talks, but that the Palestinian side was unwilling to join him.
He has also blasted the Palestinians for refusing to recognize Israel's right to exist and for repeated rocket attacks on its soil, and slammed the UN for its bias against Israel, while hailing good ties with his country's key ally, the U.S..
Sideline meetings
Aside from addressing the UNGA, both Abbas and Netanyahu are expected to hold talks with UN diplomats and envoys on the sidelines of the main conference to secure support.
The Palestinian leader reportedly invited some 30 dignitaries, except from the U.S., for talks on the eve of his speech.
Netanyahu was meanwhile expected to sit down with U.S. President Donald Trump to discuss a mooted U.S. peace deal, as well as with a number of other heads of state, including French President Emmanuel Macron, who met with Abbas last week in Paris, and Egyptian President Abdel Fattah al-Sisi.
Israeli media predicted that Sisi, whose country has repeatedly brokered Israeli-Palestinian deals in the past, would push for a two-state solution to be included in a final peace deal.
Although Abbas and Netanyahu will be speaking less than an hour apart - only the European Union and Belgium stand between them according to the provisional schedule - the two are not expected to meet.
Other voices
Efforts to achieve some degree of rapprochement or at least dialogue between the two sides were already in evidence in the run-up to Abbas and Netanyahu's speeches.
Speaking to the UNGA on Tuesday, Sisi said the parameters for peace talks were well known and all that was required was "political will to resume negotiations."
King Abdullah II of Jordan appealed for the international community to "pull together" to get the peace process "back on track."
A two-state solution was "the only path to a comprehensive lasting peace," he told UN members. This would bring about "an end to the conflict, a viable interbedded sovereign Palestinian state... with east Jerusalem as its capital and a secure Israel... recognized by Arab and Muslim states around the world."
Trump stood squarely on Israel's side, insisting that peace and stability in the Middle East were "advanced, not harmed by acknowledging the obvious facts," such as Jerusalem's status as Israel's capital.
Macron meanwhile blasted unilateral measures in the region, in a swipe at Israel and the U.S., and called for upholding the rights of Palestinians, as well as Israel's right to security.
"There is no credible alternative to the two-state solution, living side by side in peace and security with Jerusalem as capital," said the French president.