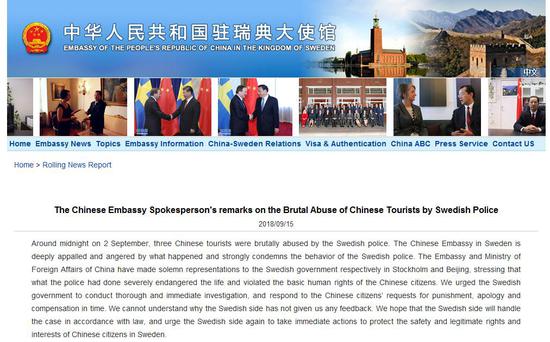 China and Sweden must develop their ties on the basis of equality and mutual respect, Chinese Ambassador to Sweden Gui Congyou said, urging "some forces" in Sweden to drop their "condescending attitude" toward China.
Gui made the remark in an interview with a Swedish news media outlet, according to a transcript the embassy released on Tuesday.
Chinese people have always kept in mind that Sweden was the first Western country to establish diplomatic ties with China, and they have held friendly feelings toward the Swedish people, Gui said.
Gui said China is committed to working with Sweden to consolidate friendly feelings between their peoples, but added, "The development of bilateral ties must have a good basis and principle, which is treating each other equally and respecting each other."
There are some forces, media and people in Sweden that have not treated China on an equal footing, Gui said.
They are "pointing their fingers at, and giving orders to, China on everything, every time and everywhere", Gui said.
"I hope these forces, media and people in Sweden will give up their condescending attitude and treat China equally. Only on such a basis and principle can China-Sweden ties develop further," he said.
Gui pointed to an incident involving three Chinese tourists who were taken by Swedish police to a cemetery in Stockholm in the early hours of Sept. 2 after not being allowed to stay in a hotel lobby when they arrived before their room was ready.
Gui said the embassy strongly protested to the Swedish Foreign Ministry on Sept 5 over the Swedish police's "brutal" treatment of the tourists, and the Chinese Foreign Ministry did the same at the Swedish embassy in Beijing.
Yet, "Sweden hasn't responded one bit as nearly two weeks have passed, which is not in line with international practice," Gui said.