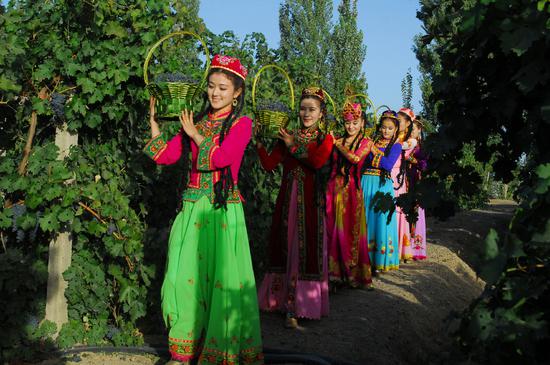 Women dressed in colorful outfits perform at the 27th Silk Road Turpan Grape Festival in Turpan, Northwest China's Xinjiang Uygur autonomous region, Sept. 3, 2018. (Photo provided to Chinadaily.com.cn)
Beijing said on Monday that the Human Rights Watch NGO has always been full of prejudice against China and distorted the facts when it accused the Chinese government of suppressing Uygurs.
The organization said in a report on Monday that the Chinese government conducts mass arbitrary detention, torture, mistreatment and daily pervasive controls on Uygurs.
Foreign Ministry spokesman Geng Shuang said at a daily news briefing that he will not give a detailed response to such accusations and remarks.
The current situation in the Xinjiang Uygur autonomous region is stable, economic growth has maintained good momentum and all ethnic groups are living in harmony, Geng said.
He added that social stability and lasting peace in Xinjiang is the common wish of the people of all ethnic groups and is in line with their fundamental interests.
Policies and measures that are carried out in Xinjiang aim to "promote stability, development, unity and ensure better livelihoods", Geng said.
They are also carried out to crack down on ethnic separatism and violent and terrorist criminal activities in accordance with the law, safeguard national security and protect people's life and property, he said.
The Chinese government protects citizens' right to freedom of religious belief in accordance with law, and the people of all ethnic groups have the right to enjoy full freedom of religious belief, he added.
A Chinese delegation gave a detailed account of China's new progress in protecting the rights of ethnic groups to the United Nations Committee on the Elimination of Racial Discrimination in August in Geneva.
The committee affirmed the efforts and achievements made by the Chinese government, and spoke in praise of China's legislative, policy and administrative measures in protecting the rights and interests of ethnic groups, Foreign Ministry spokeswoman Hua Chunying said earlier.