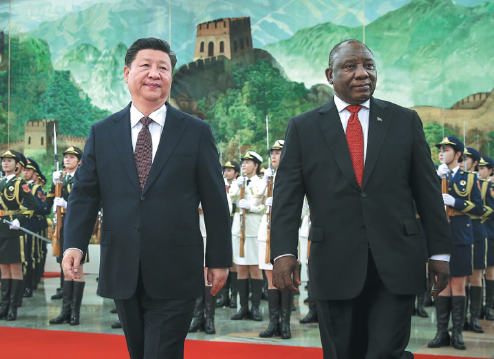 President Xi Jinping accompanies South African President Cyril Ramaphosa in the Great Hall of the People in Beijing on Sunday. (FENG YONGBIN/CHINA DAILY)
Special: Forum on China Africa Cooperation 2018
President receives heads of state, honors traditional friendships, highlights synergy of vision and underlines reinforced collaboration
Plans expected for joint work between Beijing, Pretoria in upcoming decade
President Xi Jinping called for joint efforts with South Africa to implement the consensus reached by the two sides and urged the drafting of plans to chart out cooperation between them over the next decade.
Xi made the remark on Sunday during a meeting with South African President Cyril Ramaphosa in the Great Hall of the People in Beijing.
Xi and Ramaphosa will separately chair two rounds of discussions on Tuesday during the 2018 Beijing Summit of the Forum on China-Africa Cooperation, which is being held on Monday and Tuesday.
Noting that China and South Africa are sincere friends who trust each other, Xi said that the summit is expected to inject strong momentum into the development of China-South Africa and China-Africa relations.
The goal of the summit is to build a closer community with a shared future for China and Africa, Xi said, adding that it has great significance for the development of China's comprehensive strategic partnership with the continent.
Xi said he would like to make joint efforts with Ramaphosa to achieve the goals of the summit.
The significance of the China-South Africa relationship has surpassed bilateral significance, Xi said, adding that the relationship now has global and strategic significance.
Since the establishment of diplomatic ties 20 years ago, China and South Africa have always respected, trusted and benefited each other, Xi said.
Xi said that the two countries should boost high-level exchanges and deepen mutual political trust.
The two countries should be dedicated to the development of China-Africa relations, enhance coordination under a multilateral framework and maintain the interests of developing nations, he said.
Xi recalled his state visit to South Africa in July, saying that he had deep exchanges with Ramaphosa.
Thanks to that visit, the two presidents have not only drawn blueprints for the development of China-South Africa relations in the new period, but also forged good relations both on official and personal levels, Xi said.
"I am very pleased with what we managed to discuss and achieve during the visit you had in South Africa," Ramaphosa said, adding that he and Xi had very deep discussions about a variety of issues both at the official level and on a one-to-one basis.
"During your recent visit to South Africa, we spoke about the need to strengthen high-level exchanges between China and South Africa, and also to deepen mutual trust and to increase exchanges," he said.
Ramaphosa said that he attached great importance to his state visit to China since it is the first one to the country after he took office as South African president in February.
"We believe that the state visit and our co-chairing of FOCAC will add further impetus to bilateral relations, but also will add further impetus to the relationship of China and the rest of the African continent," he said.
After the talks, the two leaders witnessed the signing of cooperation documents.