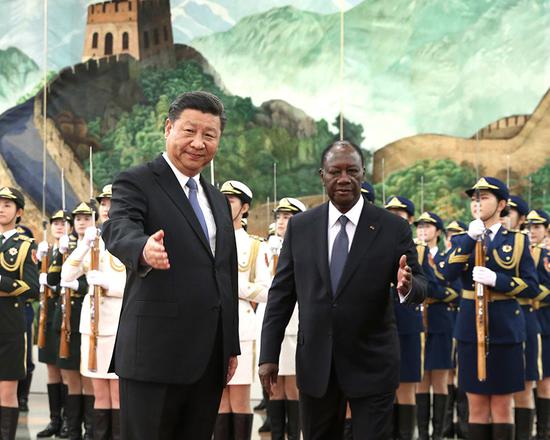 President Xi Jinping accompanies Cote d'Ivoire President Alassane Ouattara in the Great Hall of the People in Beijing on Thursday. (Photo by Feng Yongbin/China Daily)
Special: Forum on China Africa Cooperation 2018
President pledges to step up bilateral cooperation, ties with continent and teamwork in building Belt, Road
Greater development synergy sought alongside Cote d'Ivoire
China and Cote d'Ivoire should take the building of Belt and Road as an opportunity to seek greater synergy between development strategies and promote high-quality and sustainable development of the two countries, President Xi Jinping said on Thursday.
Xi made the remark in a meeting with Cote d'Ivoire President Alassane Ouattara, who is in Beijing for a state visit and the 2018 Beijing Summit of the Forum on China-Africa Cooperation.
Xi said the summit will stay committed to the building of an even stronger community with a shared future for China and Africa. The summit will be of major significance in advancing the further development of the China-Africa comprehensive strategic cooperative partnership and enhancing the solidarity and cooperation among developing countries, he added.
Xi said that during the 35 years since the establishment of bilateral ties, the two countries have seen increasingly expanding cooperation that yielded remarkable outcomes. China appreciates Cote d'Ivoire's firm adherence to the one-China policy, and firmly supports its efforts to safeguard its rights and interests in sovereignty, security and development.
China supports Cote d'Ivoire in taking a path of development that suits its national conditions, and the two nations should offer firmer support to each other on issues related to their core interests and major concerns, Xi said.
They also should cope with security challenges effectively, and play a constructive role in promoting peace and stability in the West African region and the African continent, he said.
He added that they should step up coordination at the United Nations Security Council and work together to safeguard the legitimate interests of developing countries, including African nations.
Ouattara said China is Cote d'Ivoire's great friend and its people value the traditional friendship with the Chinese people.
He said Cote d'Ivoire fully supports the Belt and Road Initiative proposed by Xi, and is willing to actively take part in it. The country will also encourage member states of the West African Economic and Monetary Union to take part in building the Belt and Road.
Cote d'Ivoire speaks highly of China's efforts to safeguard the rights and interests of developing countries in multilateral affairs, and appreciates China's active participation in UN peacekeeping missions in Africa, he said.