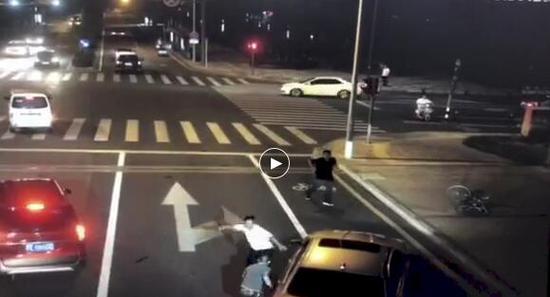 A screen shot from a video showing the knife attack at Kunshan. (Photo/China Daily)
Police and prosecutors in Kunshan say bike rider's behavior justified
Legal experts have applauded a decision by judicial authorities to identify an incident in which an electric bike rider stabbed another man to death in eastern China as self-defense, calling it a milestone in the country's rule of law.
Police and prosecutors in Kunshan, Jiangsu province, released statements on Saturday, verifying that the man's behavior constituted justifiable self-defense and noting he should be exempt from criminal liability.
"The identification is a milestone in the rule of law and will play a bigger role in guiding similar cases in our country," Ruan Chuansheng, a criminal law professor at Shanghai Administration Institute, said on Sunday, six days after Yu Haiming fought back against attacker Liu Hailong and stabbed him to death during a traffic dispute.
Surveillance video showed Yu waiting at the traffic lights in a nonmotorized-vehicle lane at 9:37 pm on Aug 27 when a black BMW sedan driven by Liu veered into Yu's lane.
Liu pushed and kicked Yu after they argued. Liu then retrieved a 59-centimeter-long knife from his car and slashed at Yu several times.
The knife fell from Liu's hand and Yu then grabbed it, stabbing Liu in the abdomen, buttocks, right chest, left shoulder and left elbow, with the video showing the whole incident lasted seven seconds.
As Liu ran back toward the car, Yu tried to stab him two more times but failed. Yu also grabbed Liu's mobile phone and handed it and the knife to police when they arrived at the scene, saying he had taken the phone to prevent Liu from calling friends to exact revenge, police said.
Liu, 36, died after the attack. Police said Yu, 41, who sustained two wounds that were not life-threatening, surrendered to them when they arrived at the scene.
After the video was posted online last week, the attack sparked heated social media discussion on whether Yu's defense was justifiable or excessive.
The statements posted by the police and prosecutors on Saturday said that according to the Criminal Law, Liu committed physical assault and it was an ongoing process.
The person being attacked could not be expected to make rational judgments in such an emergency, let alone judge the case by the injuries they suffered, the authorities said.
The drunken Liu's behavior seriously endangered Yu's safety, and his behavior kept escalating. Liu did not stop hurting Yu after he was injured, so Yu's life was at risk during the whole process, they said.
Yu's chasing of Liu and attempts to stab him again constituted a continuous act of justifiable defense, they added.
"The quick and clear explanation should be given a thumbs-up," said Mao Lixin, a criminal lawyer at Beijing Shangquan Law Office.
"It's the best way to eliminate the public's confusion on the case and help them better understand the law, while also serving as a big deterrent to offenses."
Zhao Li, a criminal lawyer at Beijing Jingshi Law Firm, also applauded the decision, saying it will help judicial authorities be more brave in verifying justifiable defense.
He said justifiable self-defense is rarely identified in practice, estimating the number of cases where that happens at no more than 10 percent.
"Judicial departments have been cautious in identifying justifiable self-defense, as the criteria in the law is too strict," he said.
"In some cases, self-defense can cause injuries or even death, which might make it hard to say whether their behavior was excessive, let alone to support the claim of self-defense."
He said he had handled cases similar to Yu's, but most of his clients were found to have acted excessively and were punished.
Legal experts said clarifying how to identify self-defense will contribute to upholding justice, and they suggested that what behaviors are regarded as excessive, and in what situations, needs to be made clearer in the law or in legal guidelines.
Mao said members of Liu's family can appeal if they disagree with the decision.
"They can apply to a higher public security department or prosecuting authority for another investigation of the case," he said. However, he added that the filing of such a case would depend on the evidence available.