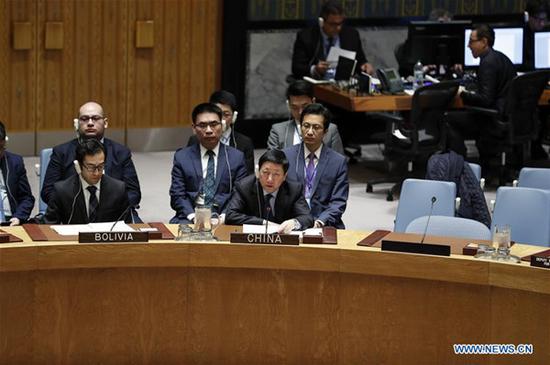 China's Deputy Permanent Representative to the United Nations Wu Haitao (R, Front) addresses a UN Security Council meeting at the UN headquarters in New York. [File photo: Xinhua]
A Chinese envoy to the United Nations on Thursday called for international consensus in the fight against terrorism.
The international community should adhere to unified standards, adopt a zero-tolerance and nondiscriminatory attitude in resolutely combatting terrorism, said Wu Haitao, China's deputy permanent representative to the United Nations.
At a Security Council debate, he also called for efforts to address the root causes of terrorism, disrupt the cross-border movement of terrorists, and fight terrorist activities conducted through the Internet.