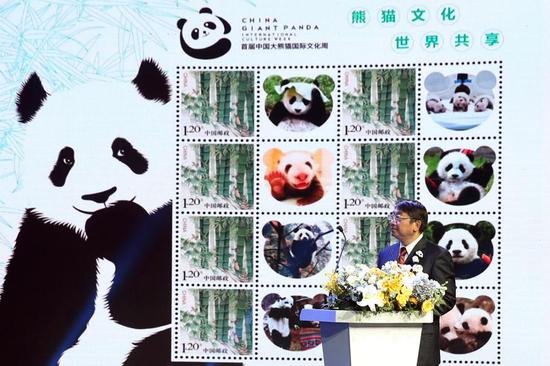 A screen displays stamps of pandas at the China Giant Panda International Culture Week in Beijing on Thursday. (Photo/CHINA DAILY)
(ECNS) - A worldwide campaign to seek an iconic image design for the giant panda has kicked off during the first China Giant Panda International Culture Week in Beijing, with the aim of promoting the unique bear as a cultural symbol to the world.
The China Conservation and Research Center for the Giant Panda and the China Intercontinental Communication Center jointly launched the global initiative that will see invited designers visit natural giant panda habitats in Sichuan, Shaanxi and Gansu.
Their challenge is to come up with a design that incorporates Chinese culture and concepts and is representative of China's national image.
The winning image will be announced in 2019 and promoted globally.
Jing Shuiqing, deputy director of the China Intercontinental Communication Center, said it is hoped that the design will be aesthetically pleasing, distinct, and capable of facilitating cultural exchange between China and the world.
The Panda Week features a public exhibition from August 23-26 at The China Millennium Monument, telling the multi-faceted story of the panda through photos, film, television, virtual reality, research exhibits, works of art and cultural and creative products. The event will also have an international tour with stops in New York City and London.
Speaking at the launch ceremony, Li Chunliang, vice administrator of the National Forestry and Grassland Administration, said China had established 67 nature reserves for giant pandas, effectively protecting 53.8 percent of their habitat and 66.8 percent of the wild giant panda population.
With the number of wild giant pandas at 1,864 and the number of captive giant pandas at 518, China has effectively sustained a healthy, vibrant, sustainable panda population, Li said.