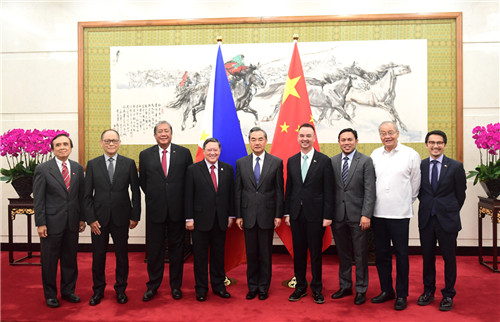 Chinese State Councilor and Foreign Minister Wang Yi (C) meets with a Philippine government delegation led by Finance Secretary Carlos Dominguez (4th L) in Beijing, August 22, 2018. /MOF Photo
Special: Belt and Road Five Years
Philippine Finance Secretary Carlos Dominguez, who is leading a government delegation to China, has said that the China-proposed Belt and Road Initiative (BRI) is the greatest project in the 21st century.
Dominguez made the remark while meeting with Chinese State Councilor and Foreign Minister Wang Yi in Beijing on Wednesday.
Wang said relations between China and the Philippines have entered a fast track and shown good momentum of improvement and development under the guidance of the two countries' leaders. He noted that the development of bilateral ties is in the fundamental and long-term interests of the people of the two countries.
"China is willing to strengthen high-level exchanges with the Philippines to promote pragmatic cooperation to a new level," Wang said, expressing hope for the Philippines' active involvement in the BRI.
ominguez said the BRI brings countries in the region closer, and noted that the Philippines will continue to take part in the project actively.
Since President Rodrigo Duterte took office, Philippine-Chinese relations have become increasingly close, and exchanges and cooperation in various fields have continued to make progress. In particular, China's investment in the Philippines and tourism cooperation between the two countries are booming, said Dominguez.
He added that the Philippine side attaches great importance to relations with China and is willing to work together with China to implement the important consensus that the two heads of state have reached and promote bilateral pragmatic cooperation.
He also said the Philippines highly appreciates and will attend the first China International Import Expo, scheduled on November 5-10 in Shanghai.
Wang also met Philippine Foreign Secretary Alan Peter Cayetano on the same day and the two agreed to fully implement the Declaration on the Conduct of Parties in the South China Sea (DOC) and to push forward the consultation on the Code of Conduct (COC) in the South China Sea.