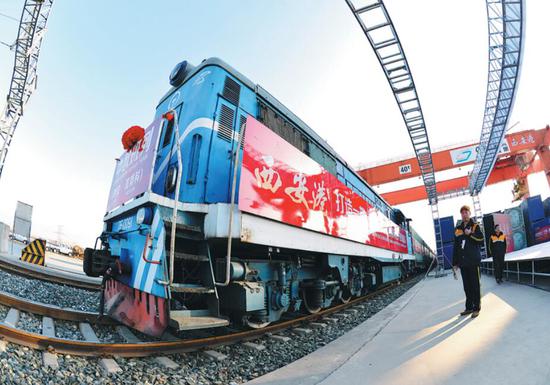 A cargo train is ready to depart from Xi'an to Moscow. (Photo/Xinhua)
Consultancy firm KPMG is optimistic about China's economic growth in the second half of this year, as infrastructure investment is expected to rebound moderately with an accelerated issuance of local government bonds. Consumption also has much room to grow, according to a report by China Securities Journal.
Kang Yong, chief economist at KPMG China, said investment, including recovering investment in manufacturing and private investment, will strongly support economic growth in the second half of the year.
"The slower investment growth in the first half of the year was mainly due to the fact investment in infrastructure was slower than expected," Kang said.
He said the acceleration of local government bond issuance in the second half of the year will help infrastructure investments raise funds, and current regulation policies also encourage financial institutions to provide support for local government financing platforms under market rules.
In addition, consumption, which contributed 78.5 percent to economic growth in the first half of the year, still has much room to grow in the second half, Kang said.
He said personal tax reform currently underway, expected to increase the income of wage-earners and middle income groups, will stimulate spending.
As structural deleveraging is mainly directed against the current imbalance in China's economic development, Kang said leverage should be moderately increased in infrastructure investments on areas such as roads, railways and sewer systems and further reduced in industries of overcapacity and low efficiency.
He said compared to other countries, China's leverage ratio in household sectors is not high, but housing loans account for a relatively high proportion.
"While the composition of leverage in the household sector in other countries may be more balanced, as residents would use consumption loans to buy automobiles and household appliances, consumer loans in China are still growing slowly," Kang said.
From the policy perspective, he suggested monetary policy and fiscal policy should be coordinated. As only 367.3 billion yuan ($53.5 billion) of special local government bonds were issued in the first half of the year, far from the annual target of 1.35 trillion yuan, the issuance and use of special local government bonds will be accelerated in the second half of the year.
Kang also said considering the market is quite liquid with a declining market interest rate, it is imperative to introduce sufficient liquidity into the real economy to support the small and medium-sized enterprises, agriculture and science and technology innovation enterprises.