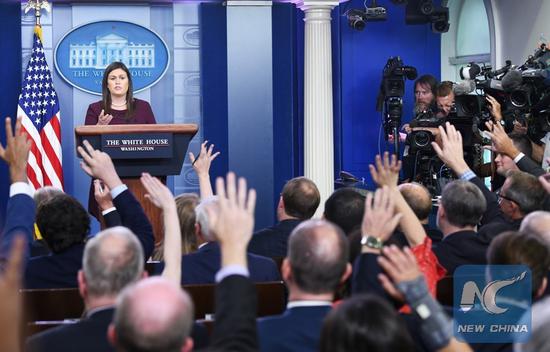 White House spokesperson Sarah Sanders attends a press briefing at the White House in Washington D.C., the United States, Aug. 14, 2018. (Xinhua/Liu Jie)
The White House said Tuesday that U.S. National Security Advisor John Bolton will meet his Russian counterpart in Geneva of Switzerland next week as a "follow-up" to the Helsinki summit last month between U.S. President Donald Trump and Russian President Vladimir Putin.
In a press briefing, White House spokesperson Sarah Sanders said Bolton and the Russian side will discuss "a range of important national security issues."
Bolton will also meet with officials in Israel and Ukraine, she added.
The U.S. State Department said on Friday that Secretary of State Mike Pompeo had spoken with Russian Foreign Minister Sergei Lavrov over phone to discuss the recently announced U.S. sanctions on Russia and the bilateral ties.
Pompeo "reiterated that the U.S. seeks an improved relationship with Russia and agreed to future dialogue."
On Wednesday, Washington determined that the Russian government "used chemical or biological weapons in violation of international law or has used lethal chemical or biological weapons against its own nationals."
The U.S. sanctions, which are based on the Chemical and Biological Weapons Control and Warfare Elimination Act of 1991, will take effect on or around Aug. 22, following a 15-day congressional notification period.
According to senior State Department officials, the sanctions will come in two phases. The first phase will ban the granting of licenses to sell "all national-security sensitive goods or technologies" to Russia.
Unless Russia, within three months since the sanctions become effective, provides "reliable assurances" that it will no longer engage in chemical weapons use and allows on-site inspections by the United Nations or other internationally recognized impartial observers, the second batch of "more draconian" sanctions would be imposed.
Sergei Skripal, a 66-year-old double agent who worked for the Soviet military's intelligence services before defecting to Britain, and his 33-year-old daughter Yulia were found unconscious on a bench outside a shopping center in the southwestern British city of Salisbury on March 4.
Kremlin spokesman Dmitry Peskov said that the U.S. actions were "absolutely unacceptable," and Moscow "once again most emphatically reject any accusations in the context of a possible involvement of the Russian state in what happened in Salisbury."
The U.S. decision is unfriendly and inconsistent with the constructive atmosphere created after the recent Putin-Trump meeting, he added.
Trump has been widely attacked after his Helsinki meeting with Putin, due to his reconciliatory remarks that many saw as a sign of siding with Moscow against the U.S. intelligence community's conclusion that Russia meddled in the 2016 U.S. elections.
The White House has said that the next meeting between Trump and Putin will be delayed till next year, citing the ongoing Russia probe in the United States.