Sunday marks the 40th anniversary of the signing of the China-Japan Treaty of Peace and Friendship. The occasion comes at a time when bilateral ties are improving, with leaders from both sides saying warm words about each other.
Nevertheless, some observers cautioned that the rapprochement is fragile due to certain sensitive issues between Beijing and Tokyo; others are optimistic that there is a way to expand common ground and deepen win-win cooperation.
Cornerstone of China-Japan relations
The signing of the China-Japan Treaty of Peace and Friendship was a milestone for the bilateral relations, summarizing the political problems between the two countries, and opening up a new chapter of bilateral relations. It is one of the "four cornerstone political documents" of China-Japan ties.
"Only by adhering to the principles and spirit set out in the four cornerstone political documents can the relations between the two countries achieve stable development. Otherwise, there will be twists and turns," Chinese Premier Li Keqiang said in May during his official visit to Japan.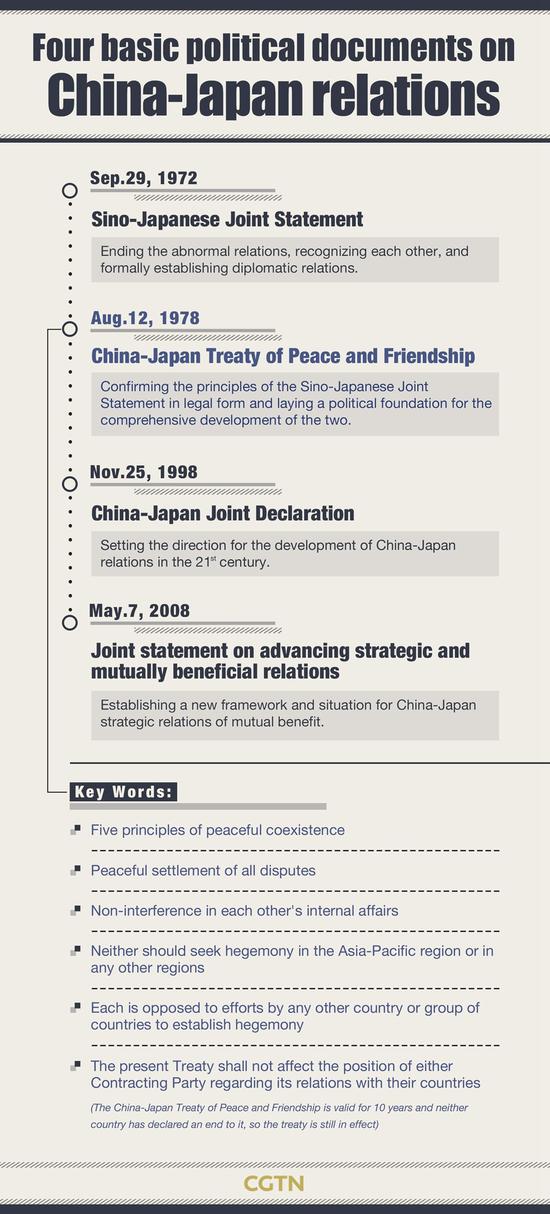 Together with the four basic political documents, the four-point principled consensus, reached by then Chinese State Councilor Yang Jiechi and Japanese National Security chief Shotaro Yachi in November 2014, also helps the two sides properly deal with major sensitive issues, and safeguard the political foundation of China-Japan relations.