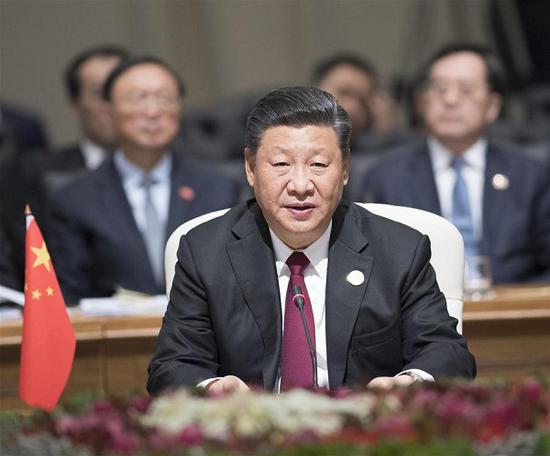 Chinese President Xi Jinping delivers a speech titled "Turn Our Vision into a Reality" at the Plenary Session of the 10th BRICS summit in Johannesburg, South Africa, July 26, 2018. The session, hosted by South African President Cyril Ramaphosa, was also attended by Brazilian President Michel Temer, Russian President Vladimir Putin, and Indian Prime Minister Narendra Modi. (Xinhua/Li Xueren)
Special: Xi Visits Five Arab and African Countries, Attends BRICS Summit
Chinese President Xi Jinping's speech at the 10th BRICS summit in Johannesburg is highly praised by scholars and observers of BRICS members and other countries.
The summit of the bloc of emerging market economies on July 25-27 gathered leaders from its members -- Brazil, Russia, India, China and South Africa -- to discuss ways in seeking common development and prosperity amid new global challenges.
Macharia Munene, a professor of international relations at the United States International University-Kenya, said President Xi's proposal to strengthen economic cooperation among the bloc's five members, such as in areas of trade, investment, financing and interconnectivity, will help forge a fairer global economic order.
Political security cooperation, he added, is an important part of the BRICS cooperation. In this regard, President Xi's call for a strong commitment is of great significance for promoting world peace.
President Xi's appeal for firmly safeguarding international peace and security as well as resolving disputes through dialogue are inspiring amid increasing security challenges worldwide, said Shepherd Mpofu, a senior lecturer at the University of Limpopo in South Africa.
Mpofu said that development and prosperity can be possible only when security is guaranteed.
President Xi "has been consistently advocating the 'BRICS Spirit' of cooperation and partnership with values such as mutual trust, mutual respect, equality at its core," said B.R. Deepak, a professor with the Center for Chinese and Southeast Asian Studies at the Jawaharlal Nehru University.
In the opinion of Ronnie Lins, director of the China-Brazil Center for Research and Business, multilateralism, dialogue and coordination are the key notes for the BRICS countries to advance their relations.
Currently, the five BRICS members have worked out a multilayer and wide-ranging dialogue mechanism, Lins said, which has enabled them to use various dialogue platforms to seek solutions and tackle disputes, showcasing an international relationship of win-win cooperation and mutual benefits.
In his speech, President Xi proposed to explore BRICS Plus cooperation within the United Nations, the G20 and other frameworks to advance the common interests and boost the development space for emerging markets and developing countries, thus contributing more to world peace and development through broader partnerships.
His view is agreed by some experts, who believe that the BRICS Plus model will help unite more developing countries and build a fairer and more reasonable global order.
Vasily Kashin, a researcher at the Institute of Far Eastern Studies, Russian Academy of Sciences, said President Xi's initiative is very important, and that China is making efforts to explore multilateral mechanisms, including the BRICS Plus.
Oliver Stuenkel, an expert of international relations at Brazil's Getulio Vargas Foundation, said the wide-ranging friendship will allow developing countries to cooperate more broadly. Expanding the BRICS Plus cooperation is conducive to promoting the dialogue between emerging market economies.
In his speech, Xi stressed that the BRICS should aim at greater people-to-people connectivity and more popular support for BRICS cooperation through extensive exchanges in cultural, educational, health, sports, tourism and other areas.
"This way, we can spread the BRICS story far and wide to further enhance the mutual understanding and traditional friendship among our people," Xi said.
Stuenkel said "with joint efforts, intra-BRICS cooperation has flourished in various fields, especially in terms of people-to-people exchanges."
William Jones, Washington Bureau chief of the U.S. publication Executive Intelligence Review, highlighted President Xi's call for more cultural exchanges among BRICS members.
"President Xi has placed a premium on the dialogue of cultures, emphasizing a greater spread of each other's cultural achievements for the world to see. The idea of a community of shared destiny implies also the universality of human culture, although this may be expressed in different languages and in different art-forms," Jones said.
"The proposal for the construction of BRICS museums to highlight the cultures of each of the members is an important aspect of the BRICS exchanges," he added.