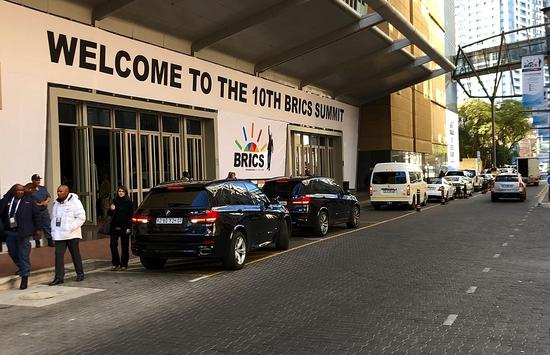 The entrance of the Sandton Convention Center in Johannesburg, South Africa, which is the venue for the 10th BRICS summit, July 23, 2018. /CGTN Photo
Special: Xi Visits Five Arab and African Countries, Attends BRICS Summit
Chinese President Xi Jinping, Russian President Vladimir Putin and Indian Prime Minister Narendra Modi are gathering for the second time in less than two months, as the 10th BRICS summit takes place in South African city Johannesburg this week.
Their previous meeting was on June 9-10 in China's coastal city Qingdao, where the three leaders attended the 18th summit of the Shanghai Cooperation Organization (SCO).
Multilateral, non-Western platforms like BRICS and the SCO have provided regular opportunities for the three emerging powers to manage differences, coordinate stances and agree on important agendas. This is particularly significant today, with Beijing, Moscow and New Delhi facing common challenges such as unilateralism and trade protectionism.
Growing China-Russia friendship
China, Russia and India are not just neighbors on the Eurasian continent, but also major developing countries with global influences. Bilateral relations between them have strong impacts on peace and prosperity in their region and the world. Generally speaking, China and Russia enjoy good relations and Russia-India ties are also strong, whereas Beijing and New Delhi disagree on some territorial and geopolitical issues.
China-Russia ties have been developing steadily since 1996, when the two sides established a strategic partnership of coordination. The year 2001 was crucial in the development of their relations, as they signed the Treaty of Good-Neighborliness and Friendly Cooperation and the SCO was founded under the leadership of Beijing and Moscow.
"The strategic partnership of coordination between China and Russia was the foundation for the SCO's creation," a report by three top Chinese think tanks said. The report, released ahead of the SCO Qingdao summit, noted that the bloc became a platform for the two countries to discuss their concerns, coordinate stances and expand cooperation.
Since the first BRIC summit in 2009 (South Africa joined the forum in 2011, turning BRIC into BRICS), BRIC/BRICS has become another important platform for China-Russia cooperation.
In 2011, China and Russia elevated their ties to comprehensive strategic partnership of coordination. The two countries are getting increasingly closer in recent years in the context of deteriorating relations between Russia and the West.
"U.S./EU sanctions on Russia have … given Moscow little choice but to deepen ties with China," former Indian Foreign Secretary Kanwal Sibal wrote on DailyO last month.
The fact that Xi and Putin have presented each other their most prestigious state honors highlights the level of friendship between the two countries.
While visiting Russia in July last year, Xi was awarded by Putin the highest order of Russia, known as the Order of St. Andrew the Apostle the First-Called. Last month in Beijing, Xi presented China's first Friendship Medal to his Russian counterpart, describing Putin as his "best friend" and "confidant."
Traditional Russia-India partnership
As an ally of the former Soviet Union during the Cold War, India still maintains strong ties with Russia despite Moscow's concerns over New Delhi's growing closeness to Washington. During Modi's informal summit with Putin in Sochi two months ago, the two sides upgraded their relationship to a "special privileged strategic partnership."
Military cooperation between Russia and India has been robust for decades, with Russia supplying about 60 percent of India's imported military equipment by value, according to the Brookings Institution.
Despite U.S. pressure and India's efforts to diversify its defense procurement, Indian Defense Minister Nirmala Sitharaman recently said her country would go ahead with the plan to purchase five advanced S-400 Triumf air defense missile systems from Russia.
"In all our engagements with the U.S., we have clearly explained how India and Russia's defense cooperation has been going on for a long time and that it is a time-tested relationship," she said earlier this month.
While New Delhi's ties with Moscow remains strong, its relations with Washington "are not in the pink," a report by Oneindia noted last month, explaining that the Donald Trump administration's "tough calls on visa and immigration and tariffs and also diktats on trade have put New Delhi-Washington ties under some stress."
On June 21, India retaliated against Washington's tariff hikes on steel and aluminum by raising import duties on various U.S. goods such as almonds, apples and some metal products.
In today's circumstances, it is natural that India is improving ties with Russia and China, the Oneindia report suggested.
Eurasia Future, a website offering news and analysis on geopolitical issues, also said India is looking for "more diplomatic and economic engagement with Russia," particularly within the BRICS and SCO frameworks.
"The BRICS forum and the SCO are two important blocs where India sees Russia as the most important and trusted partner," geopolitical analyst Rajeev Ahmed wrote on Eurasia Future on June 22.