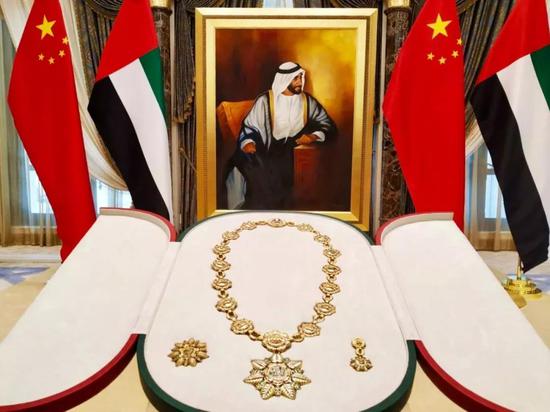 Order of Zayed, the honor Chinese President Xi Jinping received from the UAE /CCTV Photo
Special: Xi Visits Five Arab and African Countries, Attends BRICS Summit
The United Arab Emirates (UAE) said Chinese President Xi Jinping's visit to the UAE shows that the two sides have entered a new stage of comprehensive strategic partnership, the UAE's official WAM news agency said on Saturday.
As the Chinese president is wrapping up a three-day visit to the Gulf country, the WAM news agency said the bilateral ties of the comprehensive strategic partnership would "contribute to cementing and intensifying cooperation, boost joint development and prosperity, which is consistent with the common interest of both countries and their peoples."
The UAE's leaders also think highly of Xi's visit to the country.
Crown Prince of Abu Dhabi, Sheikh Mohammed bin Zayed Al Nahyan, said President Xi's visit has resulted in a far-reaching vision for the future of bilateral ties which will lead to new growth in cooperation.
As well, Vice President and Prime Minister of the UAE Mohammed bin Rashid Al Maktoum tweeted, "The UAE is the first country in the Gulf region to establish a strategic partnership with China." Besides maintaining the present economic and political relationships, the two countries will work together to build cultural, folk and humanitarian relations.
Dawood Al Shezawi, president of the Annual Investment Meeting, an initiative by the UAE's Ministry of Economy, said he was glad that the Chinese president visited the UAE and he believed the China-proposed Belt and Road Initiative is a great idea.
The initiative opens doors to many countries and shows tangible benefits to the world, he added.
The world media have also covered Xi's visit closely.
The Khaleej Times, one of the UAE's most popular English language newspapers, reported that Xi's visit marks an important moment in evolving ties between the two nations, adding that the UAE will play a more active role in the Belt and Road Initiative.
AFP said many in the UAE hope the two countries can build a strong partnership, uphold the multilateral trade system, increase opening up and globalization, and achieve inclusive development.
Reuters pointed out that, with a solid base of projects in the energy, technology and infrastructure sectors, China and the UAE will start a greater phase of cooperation and integration based on the pair's strong political will.