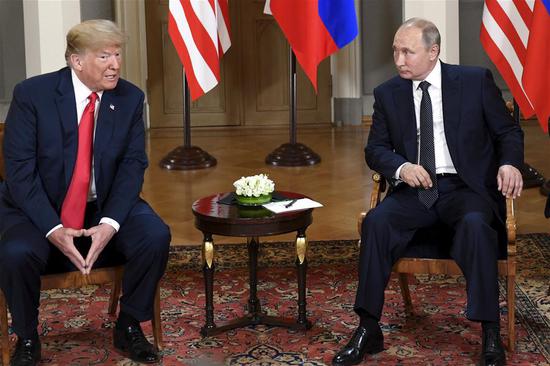 U.S. President Donald Trump (L) meets with his Russian counterpart Vladimir Putin in Helsinki, Finland, on July 16, 2018. (Xinhua/Lehtikuva/Heikki Saukkomaa)
The first one-on-one meeting between U.S. President Donald Trump and his Russian counterpart Vladimir Putin ended with a load of fragrant words and limited results.
At the press conference after the meeting, the two leaders voiced their satisfaction with the meeting as a "very constructive" one marking the "first important step" towards better ties.
Amid multiple tensions worsening both trans-Atlantic relations and Russia-West ones, however, both leaders acknowledged that problems remain in Syria, Ukraine and Crimea, making experts doubt whether the meeting could achieve tangible results.
DIFFERENCES REMAIN
During the talks scheduled on Monday at the Finland's capital of Helsinki, the two leaders agreed to cooperate more on issues concerning Syria, the security of Israel, anti-terrorism work, as well as nuclear disarmament and non-proliferation.
Yet differences between the two remain. Putin admitted that "clearly there are some challenges left" and they "did not agree on all issues."
The two sides did not agree on Ukraine and have not yet reached agreements on arms control and disarmament, said Dmitry Suslov, an expert on Russia-U.S. relations from the international discussion club Valdai.
"When journalists asked about concrete steps for bringing peace for Syria and security of Israel, they didn't present any," said Sarah Pagung, an expert on Russia with the Berlin-based thinktank German Council on Foreign Relations.
"The most concrete results were reached within nuclear weapons control. Even there it was not very concrete, but the presidents gave explicit promises about trying to reach results in that sector," said Teija Tiilikainen, director of the Finnish Institute for International Affairs.
At the press conference, Putin seemed to have offered to extend the New Strategic Arms Reduction Treaty, which limits long-range nuclear arms, but Trump has been noncommittal.
The treaty, to expire in 2021, has won bipartisan support in the U.S. Congress for extension unless replaced by a better one. The extension of the treaty was thought possible before the meeting by analysts.
Instead of resolving specific issues, Trump and Putin agreed to jointly study or explore potential solutions to their confrontations.
ATTACKED AT HOME
Due to the Crimea issue and the alleged Russian interference with the 2016 U.S. elections, Russia-West relations have hit their lowest level since the Cold War.
The joint press conference was overshadowed by media questions about Moscow's alleged meddling with U.S. elections, despite Putin's categorical denial of any interference and Trump's attacking of the findings of U.S. intelligence agencies.
Suslov told Xinhua that the two sides have not issued any joint statement concerning major disputable issues in U.S.-Russian relations. Meanwhile, Trump faced unprecedented pushback at home, as angry opponents rushed to denounce him in the strongest terms possible.
Republican Senator John McCain issued a statement saying the press conference "was one of the most disgraceful performances by an American president in memory."
Senator Jeff Flake, another Republican, tweeted "I never thought I would see the day when our American president would stand on the stage with the Russian president and place blame on the United States for Russian aggression. This is shameful."
On the liberal-leaning opinion pages of The New York Times, columnists Charles M. Blow dubbed Trump as "treasonous traitor" and Thomas L. Friedman wrote that Trump "is deliberately or through gross negligence or because of his own twisted personality engaged in treasonous behavior."
John O. Brennan, Director of the Central Intelligence Agency from 2013 to 2017, also tweeted that Trump's press conference performance "was nothing short of treasonous."
WARY EUROPE
Still reeling from Trump's divisive trips to the NATO summit and Britain, Europe's understanding of Helsinki underscored the profound worry among traditional U.S. allies toward Trump and particularly his rapprochement with Russia.
"The result of the summit was not as bad as it could have been," Timo Soikkanen, former professor of political history of Turku University and the official historian of the Finnish Foreign Ministry, told Xinhua, adding that "the result could have been much worse for the EU and small countries."
There had been fear that Trump could have pulled the U.S. out of military exercises in the Baltic sea area, or that Trump could scrap the West's concerted stance on Crimea.
Now that Trump is heading home, his three-nation tour will be remembered by Europe not only for his handshake with Putin, but also his incendiary remarks calling the European Union a "foe," suggesting the UK should sue the EU, and accusing Germany of being controlled by Russia.
European Council President Donald Tusk, meanwhile, tried to play down the tension between the U.S. and the EU.
"America and the EU are best friends. Whoever says we are foes is spreading fake news," he tweeted.