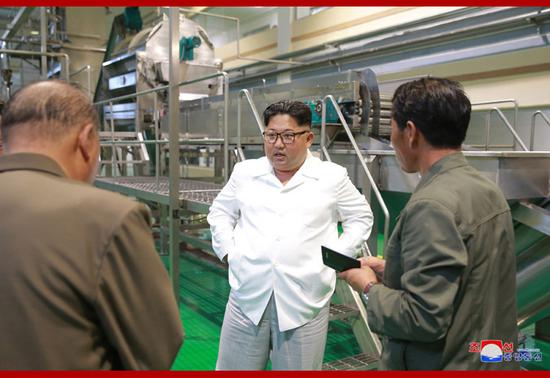 Kim Jong Un inspected a potato farina production factory in Samjiyon County, KCNA reported on July 10, 2018. /KCNA Photo
The leader of the Democratic People's Republic of Korea (DPRK), Kim Jong Un, gave field guidance to various factories and construction sites in Samjiyon County, a mountainous area bordering China's northeast Jilin Province, the official Korean Central News Agency (KCNA) reported on Tuesday.
Accompanied by officials, Kim inspected a potato farina production factory and several construction sites in the township, vowing to build Samjiyon the country's model city, KCNA said.
Kim said a model city with a modern civilization in the mountains should be developed as part of the construction in Samjiyon County, which is divided into areas of education, houses, modern streets, industry, sports and cultural education, commercial services and tourism.
The DPRK leader announced the country would move on from developing a nuclear arsenal to prioritizing socialist economic construction when he was addressing party members in April.
He last inspected textile and fiber factories in Sinuiju, a county neighboring China's northeastern province of Liaoning, KCNA reported on July 2.