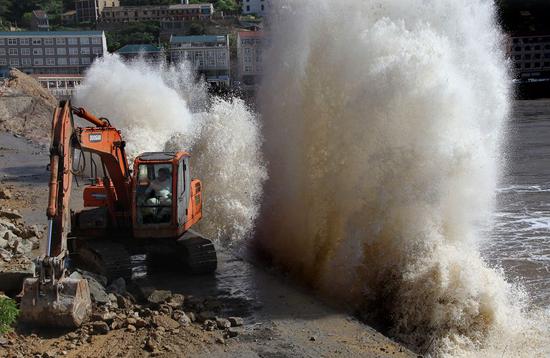 Waves crash against the shoreline of Wenling, Zhejiang province, on Monday, as super typhoon Maria approaches. Huge waves developed in coastal areas of Shitang township. (Photo/China Daily)
Storm expected to pass Taiwan, hit mainland early on Wednesday
China's meteorological authority has issued its first red alert of the year for a typhoon on Tuesday morning, with super typhoon Maria expected to hit Fujian and Zhejiang provinces with heavy rains and powerful winds on Wednesday.
Maria, packing winds of up to 216 kilometers per hour, is likely to breeze past Taiwan and lash the coastal areas of the southeastern Chinese mainland on Wednesday morning, especially between Xiapu and Fuqing in Fujian province, the China Meteorological Administration said.
It is the eighth typhoon of the year and the first one to trigger a red alert - the highest in China's four-tier alert system for severe weather.
After Maria formed on July 4 in the Pacific Ocean, it strengthened to super typhoon status within 33 hours, significantly faster than average, according to Qian Qifeng, senior engineer at the National Meteorological Center.
Qian said the storm is moving fast, at about 30 km/h, bringing heavy rainfall in southeastern Zhejiang province, central and northern Fujian province and central Jiangxi province.
"The public in the affected areas should stay indoors all the time because it could turn from mild weather to torrents of rain and intense winds in a short span of one to two hours," Qian said.
Maria is expected to arrive in Jiangxi province on Wednesday evening and gradually weaken to a tropical depression at around 8 am on Thursday.
The State Flood Control and Drought Relief Headquarters has dispatched four teams to guide flood control work - followed by the Ministry of Emergency Management, which sent three teams to Fujian, Zhejiang and Jiangxi provinces, urging local governments to stock emergency resources and examine potential risks.
The meteorological administration also warned that heavy downpours in the Sichuan Basin, southeastern Gansu province and southwestern Shaanxi province, will continue on Tuesday and Wednesday, with some regions getting precipitation of up to 35 centimeters.
The amount of rain in these regions is up to double the historical record, resulting in high risk of natural disasters such as flooding and landslides.
The Sichuan flood control authority launched a Level III emergency response to flooding on Monday evening. The last time a flood control order of this level was activated in Sichuan province was July 2013, when major floods left 58 people dead and another 175 missing.