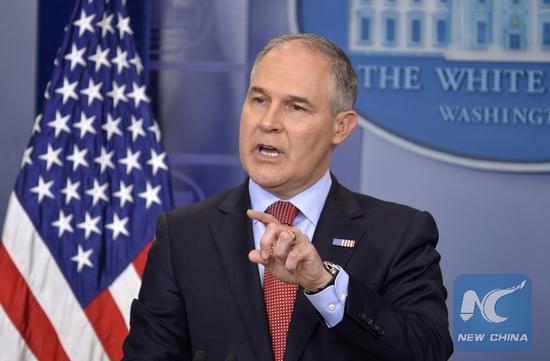 U.S. Environmental Protection Agency administrator Scott Pruitt speaks during a press briefing about President Donald Trump's decision to withdraw from the Paris Agreement at the White House in Washington D.C., the United States, on June 2, 2017. (Xinhua/Mike Theiler)
U.S. President Donald Trump said Thursday that he has accepted the resignation of Scott Pruitt, the scandal-hit administrator of the Environmental Protection Agency (EPA).
Trump made the announcement via Twitter, adding that Andrew Wheeler, the EPA's deputy administrator, will assume duties as the agency's acting administrator next week.
Pruitt's resignation comes after months of allegations against him over ethical and legal violations relating to his travel spending, security costs, connection with industry lobbyists and misuse of government resources.
While Pruitt, 50, had denied wrongdoing, his acts incurred a number of inquiries by Congress, the EPA itself and the White House.
A spokesman for the EPA's Office of Inspector General said Thursday that ongoing or pending reviews of Pruitt will continue, despite his resignation.
Trump, who had previously said he has confidence in Pruitt, still appeared to be approving of Pruitt's job. "Within the Agency Scott has done an outstanding job," the president tweeted.
A former Oklahoma attorney general reportedly having close ties to fossil fuel industries, Pruitt has strongly defended Trump's decision to quit the Paris climate accord.
He was also praised by the president for rolling back Obama-era environmental regulations that the White House claims hinder economic growth.
Despite his praise for Pruitt's job performance, Trump has also admitted that he's not happy about "certain things."
White House spokesman Hogan Gidley on Tuesday called ethical questions facing Pruitt "troublesome," adding that "these things matter to the president as well, and he's looking into those."