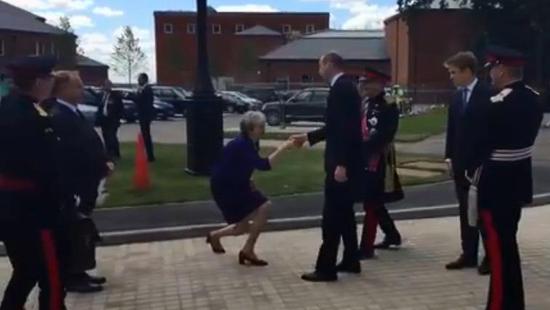 British Prime Minister Theresa May curtseys to Prince William at Defense and National Rehabilitation Center in Nottinghamshire, UK, June 21, 2018. /Screenshot from Twitter
British Prime Minister Teresa May was captured giving a deep curtsey to Prince William at an official event on Thursday, a gesture that has triggered heated debate over democracy and monarchy among netizens.
The controversial scene took place as Prince William and May paid a visit to the newly-built Defense and National Rehabilitation Center (DNPC) in Nottinghamshire. The care center will provide rehabilitation facilities for British armed personnel who have suffered trauma or injury.
As the two met, May shook hands with Prince William while curtseying dipping low in her heels. The brief greeting was captured and shared on the Internet by UK media The Mirror, which called the gesture "cringe-worthy".
American lawyer and journalist Glenn Greenwald later shared a picture of May's curtsey on Twitter and stirred an escalating debate among netizens.
"The Prime Minister of the United Kingdom, Theresa May, meets the His Royal Highness The Duke of Cambridge, Prince William. How adult human beings continue to indulge all this with a straight face is truly baffling. And embarrassing," the tweet reads.
While many people commented in tune with Greenwald calling the event "embarrassing" and "outdated", others defended May by saying her manner was ceremonial and respectful.
"It is neither fawning or embarrassing. It is a traditional mark of respect to the crown," Twitter user @lcookson3 replied.
"Unless you have a Monarchy and the history associated with it you will never understand. I love our Royal Family's historical importance and the pomp and ceremony that still exists to this day," another user @owsi1968 tweeted.
Under his comment, @SamTracy disagreed. "Why are you fine being ruled by people who literally just won the genetic lottery?"
"I'm English and think it's stupid and outdated. They're just the figurehead of privilege. How can we ever have equality when we have Royals? Imagine bowing low and calling someone 'Your Highness' just because they happen to have been born into a specific family. It's pathetic," Twitter user @AKA_Porlek commented.
A royal family spokesperson later told The Independent that although the general courtesy was to "curtsy or bow" before a member of the Royal family, particularly the Queen, "this was completely down to 'personal choice' and was not expected."
According to the Royal Household, no obligatory codes are imposed on people when greeting members of the Royal family. For those who "wish to observe the traditional forms", the advice is for men to do a neck bow (from the head only) and women to do a small curtsy. A simple hand shake is acceptable.