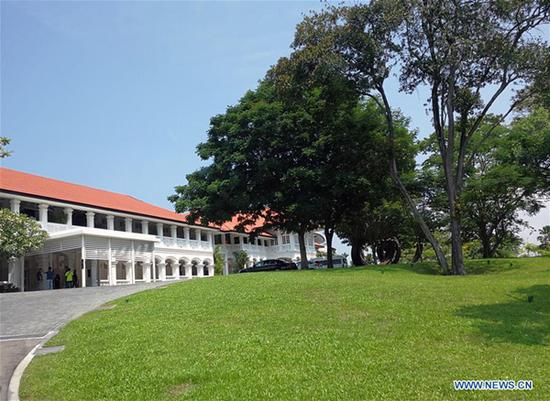 Photo taken on June 7, 2018 shows the exterior of the Capella Hotel in Singapore's Sentosa Island. U.S. President Donald Trump and top leader of the Democratic People's Republic of Korea (DPRK) Kim Jong Un will meet at the Capella Hotel on Singapore's Sentosa Island on Tuesday. (Xinhua/Li Peng)
Top leader of the Democratic People's Republic of Korea (DPRK) Kim Jong Un and U.S. President Donald Trump will hold a summit meeting in Singapore on Tuesday, the first between incumbent leaders of the two countries since the end of the 1950-53 Korean War.
Trump kept open the possibility of ensuing meetings with Kim following the one in Singapore, which he said will hopefully start "something big."
"Meeting in Singapore with North Korea (the DPRK) will hopefully be the start of something big ... We will soon see!" he tweeted on June 5.
POSITIVE STEP
When announcing the reinstatement of the June 12 U.S.-DPRK summit, Trump said, "It will be a beginning. I think you're going to have a very positive result in the end."
Lee Sang-man, professor at the Institute for Far Eastern Studies of Kyungnam University in South Korea, viewed the DPRK-U.S. summit as a positive step toward a denuclearized Korean Peninsula.
"It contributes much to the Korean Peninsula's denuclearization and lasting peace settlement," he told Xinhua. "Coexistence and co-prosperity will come based on peace. With peace on the Korean Peninsula, peace will naturally come in Northeast Asia."
Richard Haass, president of Council on Foreign Relations, a New York-based think tank, said that Trump "appears to be embracing the idea of summit as the first step of gradual progress."
In a tweet on June 1, the scholar said, "This is the only way to advance if we are to avoid catastrophic failure of diplomacy or catastrophic success, ie, offering up too much to get a deal in Singapore."
Acknowledging the wide strategic and ideological divisions between the United States and the DPRK, Robert Kelly, a political science professor at South Korea's Pusan National University, said, "My expectation is that the summit will result in some small improvements, and then lead to a process that takes six months or a year."
To extend good faith and commitment, both countries have sent out positive messages recently. Washington, in particular, seemed to have toned down the expectations for a cure-all agreement through one meeting.
"President Trump has already started to say that CVID (complete, verifiable and irreversible denuclearization) is unlikely and that this will take some time. So I think they're beginning to manage expectations," Kelly said.
Dan Mahaffee, senior vice president and director of policy at the Center for the Study of Congress and the Presidency, believes that the resumption of dialogue and clearer expectations could provide a path forward.
"Hopefully ... dialogue can continue to lessen tensions, but with a realistic understanding of what are likely outcomes," he said.
STICKING POINTS REMAIN
In an encouraging sign, the DPRK decided to suspend its nuclear and intercontinental ballistic missile (ICBM) tests on April 21. It also dismantled its nuclear test site in the northeastern part of the country in late May.
But achieving the goal of denuclearization of the Korean Peninsula will be a daunting challenge given the deep mistrust between Pyongyang and Washington, as well as their differences over what denuclearization would entail, experts said.
"Denuclearization means CVID for the United States, but from the viewpoint of North Korea, denuclearization means the denuclearization of the entire peninsula," said Masahiro Kohara, professor at the University of Tokyo.
Calling for phased and synchronous measures for denuclearization, requiring reciprocal actions by the United States, what Pyongyang also wants in return for its relinquishment of nuclear weapons is a security guarantee from Washington as well as the lifting of sanctions imposed by the United Nations and the Unites States.
"Without the lifting of sanctions, the DPRK cannot exist as a normal state that normally engages in global trade and financial transactions," said Lee from Kyungnam University. "The United States must guarantee there will be no regime change in the DPRK," he said.
In addition, experts have pointed out a number of obstacles that will have to be addressed during and after the Singapore summit.
"There are many issues to discuss, from denuclearization to international assistance for North Korea," Darrell West, senior fellow at the Brookings Institution, said.
"The key thing will be to establish a process by which each side moves a bit and gets rewarded with a parallel action from the other side," he said, adding only a win-win agreement will last for long.
Douglas Paal, vice president for studies at the Carnegie Endowment for International Peace, believed the tangible outcomes of the June 12 summit would be "big-sounding, but achievable."
Paal expected the summit to achieve "grand objectives worded ambiguously, a tentative timetable for achieving them, and the designation of envoys to continue the process."
"It (the meeting) will be made to look like steps in the right direction for both sides, with details to follow," he said.