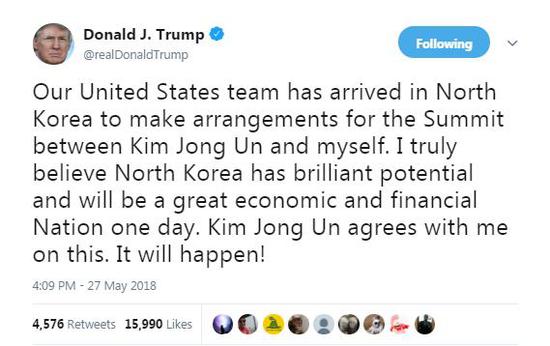 President Trump: U.S. team arrives in DPRK to prepare for his meeting with Kim
WASHINGTON - U.S. President Donald Trump on Sunday confirmed that a U.S. official team had arrived in the Democratic People's Republic of Korea (DPRK) to talk about the preparation for a summit between him and DPRK's top leader Kim Jong Un.
"Our United States team has arrived in North Korea to make arrangements for the Summit between Kim Jong Un and myself," he tweeted.
The Trump-Kim meeting is scheduled to be held in Singapore on June 12.
"I truly believe North Korea has brilliant potential and will be a great economic and financial Nation one day. Kim Jong Un agrees with me on this. It will happen!" said the White House host.
The Washington Post reported earlier on Sunday that former U.S. Ambassador to South Korea Sung Kim on Sunday crossed into the DPRK to prepare for a summit with Choe Son Hui, DPRK's vice foreign minister.
The Washington Post quoted State Department spokesperson Heather Nauert as saying that the meetings are expected to continue Monday and Tuesday in the northern part of the demilitarized zone where DPRK leader Kim Jong Un met with South Korean President Moon Jae-in on Saturday.
Previous report
Talks supported by Foreign Ministry, which hopes for peace on peninsula
Trump canceled the scheduled meeting on Thursday, saying that it would not happen "based on the tremendous anger and open hostility" displayed in the DPRK's most recent statements at that time.
However, he reversed course just one day later. Both sides wanted the meeting to happen and it could still go ahead after productive talks, he said.
Hours earlier, before Trump's statement calling to continue the summit, the DPRK's official Korean Central News Agency said Kim expressed his "fixed will" to hold the summit.
Kim made the remarks when having his second meeting with Moon at the truce village Panmunjom on Saturday.
During the Saturday meeting, Pyongyang and Seoul agreed to hold another high-level talk on Friday that will be followed by inter-Korean military talks to ease tensions and a Red Cross talk to hold the reunion of separated families across the inter-Korean border since the 1950-53 Korean War ended in an armistice, according to the ROK presidential office.
Lyu Chao, director of the Border Study Institute at the Liaoning Academy of Social Sciences, said it should be recognized that the settlement of the nuclear issue is an extremely complicated process.
"It does not happen overnight," he said, adding that Trump's course reversal fully demonstrated that the Korean Peninsula issues require more cautious decisions and should not be made impulsively.
Washington's demand for a "complete, verifiable and irreversible denuclearization" is inconsistent with Pyongyang's intention to achieve denuclearization gradually, said Zheng Jiyong, director of the Korea Research Center at Fudan University, adding that the ideal way to work on the issue is that both parties can "move toward the same goal, make concessions, and show their sincerity", he said.
On Saturday Kim and Moon also announced that the two leaders would meet frequently in the future to make dialogue brisk and to pool wisdom and efforts, and also promised to further push forward the peace process on the Korean Peninsula by working toward denuclearization and improved inter-Korean ties.