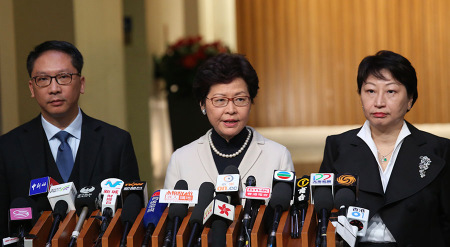 Hong Kong Chief Executive Carrie Lam Cheng Yuet-ngor (center) speaks to the media on Friday with new Secretary for Justice Teresa Cheng Yeuk-wah (right) and Rimsky Yuen Kwokkeung, who is leaving the post. (Photo/China Daily)
Hong Kong's incoming legal chief Teresa Cheng Yeuk-wah said on Friday that her top mission is to "uphold the rule of law".
Cheng made the remark in a news conference after the State Council approved the recommendation of Carrie Lam Cheng Yuet-ngor, the Hong Kong Special Administrative Region's chief executive, to appoint her as secretary for justice.
Cheng will take up her duties on Saturday, replacing Rimsky Yuen Kwok-keung, who decided to leave the post for personal reasons.
Cheng, the second woman in the position since Hong Kong's return to China in 1997, said aside from the primary mission of upholding the rule of law, the secretary of justice should also protect the public interest and ensure criminal prosecutions are carried out without interference.
She also said the "one country, two systems" principle is "the most suitable and most favorable" constitutional arrangement for the SAR.
Cheng, who served as chairwoman of the Hong Kong International Arbitration Centre since 2014, also acknowledged that Hong Kong has encountered some "unprecedented legal challenges" in implementing the principle.
She described the principle as an innovative constitutional arrangement in unitary states and said she understands that people may have different views of it. She called on the community to do analyses rationally.
"If we insist on applying legal principles (and) objectively and rationally analyze the Basic Law, which is promulgated by the National People's Congress in accordance with the Constitution of the People's Republic of China, we will ultimately arrive at the same legal conclusion," Cheng said.
Cheng expressed her gratitude to Lam and the central government for nominating and appointing her to the post. Having been in public service for years, she promised to continue to serve the city with confidence, faith and her professional knowledge and experience.
Lam said Cheng is a "high achiever" in the legal profession and has been "very active" in public service over the years.
In Beijing, Zhang Xiaoming, director of the Hong Kong and Macao Affairs Office of the State Council, joined Lam in recognizing Cheng's qualifications. He said Cheng loves the country and the city, and enjoys a top reputation in Hong Kong's legal sector.
Lam also paid tribute to Yuen for his "outstanding performance" during the past five and a half years, and called him a "pillar of strength" in upholding the rule of law in Hong Kong.