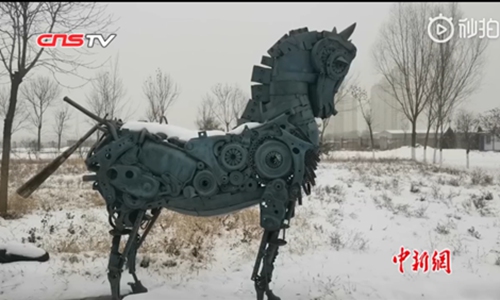 The statue of horse. (Screenshot photo of video posted by China News Service)
An art teacher in North China's Shanxi Province is turning heavy pieces of broken machinery into busts of China's 12 zodiac animals for the upcoming Chinese New Year, which falls on January 25 this year.
A video posted by the China News Service shows Huang Qicai, a teacher at a college in Taiyuan, has so far made nine statues representing the years of the tiger, the monkey and the ox.
Huang said his sculpture for next year's Year of the Mouse will be finished before Chinese New Year's day and kick off Spring Festival, which is another name of Chinese New Year.
The teeth of the bust of the fierce looking mouse are made from an old chain and the skull is made from a grate that was once part of a furnace, said Huang.
"Because more young people are visiting exhibitions now, I want to make the mouse more cartoon-like" Huang said in the video.
He said that his works combine traditional Chinese culture with modern sculpture concepts in the hope of attracting young people.
Huang has also gained fame for his sculptures of giant replicas of Marvel comics' transformer characters including Optimus Prime.
Huang hopes his sculptures, inspired by Chinese tradition, will some day be exhibited abroad and help promote Chinese culture.
Huang seems to have been inspired by bronze statues that were part of a water clock at the ancient Old Sumer Palace in Beijing and are considered national cultural relics.