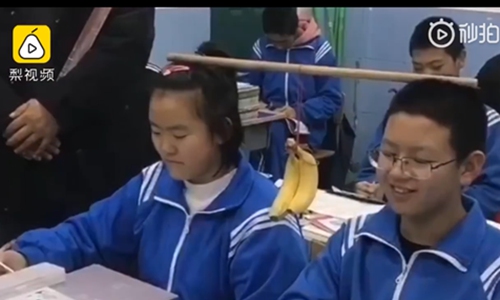 (Screenshot photo of video posted by Pear Video)
To protect students' eyesight and get them to sit up straight in class, a junior high school teacher in Fushun, Northeast China's Liaoning Province balances a long dowel across the heads of two students with a bunch of bananas tied to the middle of the stick.
Two students sitting ramrod straight at their classroom desks are seen in a video posted by Pear Video with a single dowel on their heads, until the girl dips her head and the stick falls in their lap and their classmates laugh.
Their teacher, Chu Lianfu, said in the video that the idea is to prevent students from getting too close to their reading material, which he believes can damage their eyesight.
Chu says the exercise is just a gimmicky way of showing his students how they should sit up straight and cast their eyes down at the reading material on their desks, rather than bring it closer to their face or vice versa.
Chu is apparently not a serious disciplinarian as the video shows him interacting with his amused students as he feds a few pieces of fruit to one of the girls in his class.
Chu's idea to protect student's eyesight didn't exactly impress many netizens, who thought it may harm other aspects of students' health.