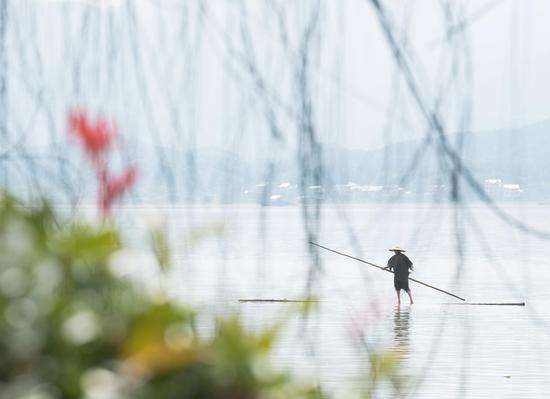 Fang Shuyun, 54, a native of Jiande City, crosses Xin'an River using two bamboo poles in Jiande City, east China's Zhejiang Province, July 11, 2019. Fang learned the trick when he was a kid. (Xinhua)
Fang recently made a splash on the Internet with his amazing skills.
The bamboo under his feet is about 8 meters long, with a diameter of 15 cm. For Fang, 167-cm tall and weighing 55 kg, the bamboo generates just enough buoyancy to keep him above water.
"When the wind blows, I usually just stand on the bamboo, and use a small bamboo stick to push the boat next to help me flow into the river," he said.
Such art is usually depicted in Chinese Wuxia stories. In China, the most famous person with the skill is Bodhidharma, a Buddhist monk believed to have existed during China's Southern and Northern Dynasties (420-589).
Legend has it that Bodhidharma visited Emperor Wu of Liang, a patron of Buddhism. The emperor refused to listen to Bodhidharma's words and disagreed with his interpretation of Buddhism. So Bodhidharma left. But the emperor soon realized he was wrong, and sent people off to find Bodhidharma.
Noticing people chasing behind, Bodhidharm picked a reed at the riverside and threw it to the river. The reed was transformed into a boat and it carried Bodhidharm away, leaving the emperor behind in regret.
In reality, however, Fang said he does not know much about martial arts, and that his skill to float on water mainly depends on the direction and power of the wind, and the water current. The most important thing is to keep the feet firm on the bamboo.
"As long as I keep my feet firm, even if there is a strong tide, I can still keep my cool on the bamboo," he said.
But it is not easy to be that cool. The bamboo's round shape means it rolls in the water easily, even if the water is still. In Xin'anjiang, which has strong water currents and is more than 10 meters deep, the art of standing on the river can easily turn into a disaster.
"You must keep your weight on the front foot, and use the other foot to grasp the bamboo firmly," he said.