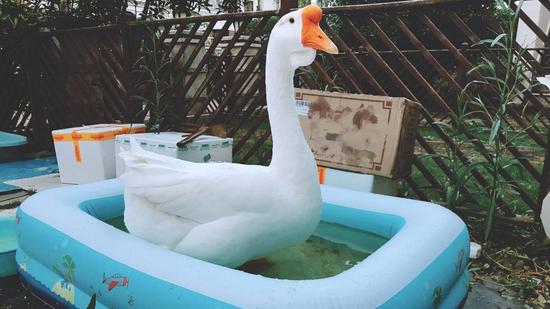 The university announced on Weibo that they were willing to accept the goose. /Screenshot of Weibo
Now that college entrance examinations are over, students are starting to receive their college admission letters. One university has created conversation online after accepting a goose as a "student."
A goose nicknamed Gugu was officially "enrolled in" Shanghai Maritime University after a netizen on Friday asked the university if they could adopt her goose in a comment on the university's Weibo account, China's equivalent of Twitter.
Saying she could no longer take care of the bird, the university soon responded to the request by reposting the comment, saying that they would ask the university's administration for permission.
Later, the university announced on Weibo that they were willing to accept the goose and also issued an official admission letter to the special "student," a post that now has more than 10,000 likes and 10,000 shares respectively.
The successful enrollment a goose "student" has been lauded by numerous netizens.
"Such a handsome goose," commented a user @-liyaer.
"A huge welcome to the goose to our university!" commented a user @yuanqimanmandeweiweiyu on Weibo.
"Shanghai Maritime University is such a great university for its inclusiveness," commented a user @Dancingwithgrace on Weibo.
Some netizens even posted pictures of potential "homes" for the goose once it's on campus.
"Calm down, the living circumstances for geese are favorable in the campus and Gugu would have a great time with many of its fellows here," said a user @Self-dependant on Weibo.
In fact, the university has a tradition of raising geese on its campus, with special sheds to help shelter the creatures.
The geese in the university also have an official Weibo account, with nearly 7,000 follwers. Photos of the daily lives of geese on campus are posted on the account.
It is not a rare thing to see a university's well-known animals or other characteristic things having their own social media accounts.
The wind on Shandong University's has its own Weibo account, and is known for posting things like "Huhuhu," mimicking the sound of the wind blowing.
Another Weibo account for the pigeons at Zhejiang Gong Shang University in east China's Zhejiang Province has also drawn many netizens' attention by posting "gulu, gulu," imitating the grunting sound of pigeons.