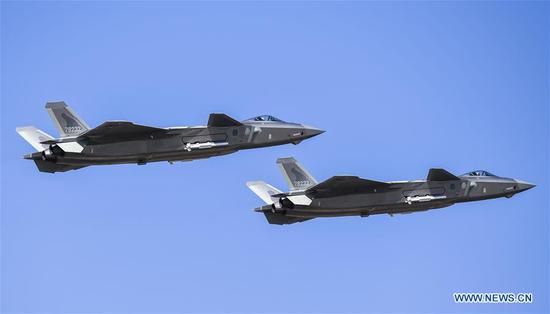 J-20 stealth fighters make a flight demonstration during an activity celebrating the 70th founding anniversary of the Chinese People's Liberation Army (PLA) air force in Changchun, capital of northeast China's Jilin Province, Oct. 17, 2019. (Xinhua/Lin Hong)
Special: 70th birthday of PRChina
China's J-20 stealth fighters Thursday joined an air show held to celebrate the 70th founding anniversary of the Chinese People's Liberation Army (PLA) air force.
The airshow in Changchun, capital of northeast China's Jilin Province, was kicked off by three parachutists carrying the national flag, the flag of the PLA and the flag of the PLA air force, respectively.
The J-20 stealth fighters, Y-20 large transport aircraft, J-16 fighters and the new training plane JL-10 treated the audience to a performance of demonstration flights.
Two J-11BS, China's third-generation fighters, carried out a simulated air battle, and China's airborne troops showcased anti-terrorist operations to display the air force's achievements in real combat training.
Three aerobatic teams of the PLA air force also performed aerobatic flights, and the air force selected 71 pieces of equipment for static display in the five-day air show.