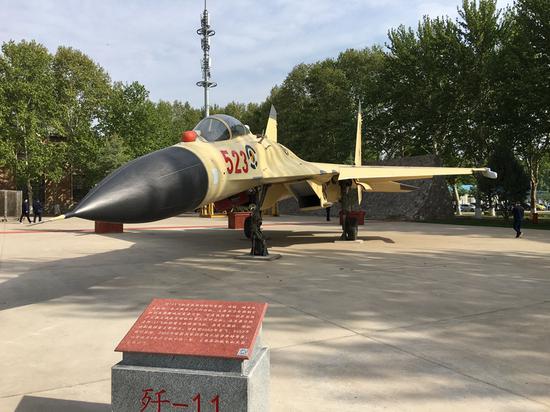 A J-11 fighter jet is on display at the exhibition park that opened to the public on Sunday in Xi'an, Northwest China's Shaanxi province. (Photo by Zhao Lei/chinadaily.com.cn)
Aviation Industry Corp of China, the country's leading aircraft manufacturer, on Sunday launched an exhibition park in Xi'an, Shaanxi province.
The park is located in an aviation industry compound in Xi'an's northeastern suburb and showcases 16 aircraft used in flight testing.
The exhibits represent prototypes of the Chinese military's major aircraft down through the years, including the CJ-6 basic trainer, J-7 fighter jet, KJ-2000 early-warning and control plane, as well as the Z-10 attack helicopter.
These aircraft contributed significantly to China's aviation industry and flight test endeavors, and highlight the growth of the country's aviation sector, according to an Aviation Industry Corp of China statement.
In addition to the aircraft, the park also features relief sculptures depicting the histories of Chinese planes'test flights.