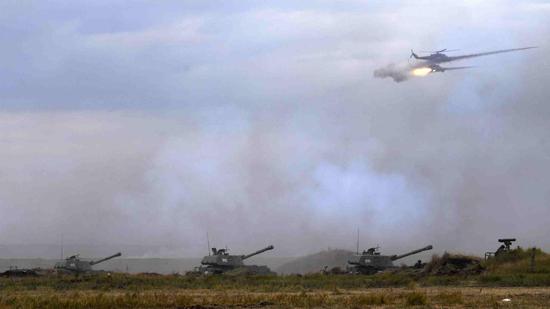 (Photo/CGTN)
The final drills at Russia's Vostok-2018 ended after the ground and air forces of Russia and China rained hundreds of thousands of bombshells and bullets on the Tsugol Training Range in East Russia.
Major Li Jinpeng is the battalion commander of a Chinese artillery battalion who conducted a firepower attacking mission during the drills. Within 28 seconds, Li's eight rocket launchers fired 320 rockets, raining bombshells on makeshift enemies.
Li told CGTN that the biggest difference between this drill and the previous ones is that it's treated like a real battle, the likes of which can be unpredictable. "So, we are using much more ammunition than usual," Major Li added.
"The huge consumption of ammunition means something different. In the past decade, China-Russia military drills mainly focused on anti-terrorism and other non-traditional threats. But this one simulates a classical anti-invasion battle campaign."
In modern warfare, the invincible firepower of armored vehicles and tanks practically guarantees success on the ground.
Captain Zhang Lei's synthetic armored vehicle battalion carried out mobilized defense missions in the drill. "One of my soldiers told me that he fired so many shells in these drills that it is almost equivalent to his total over the past five years."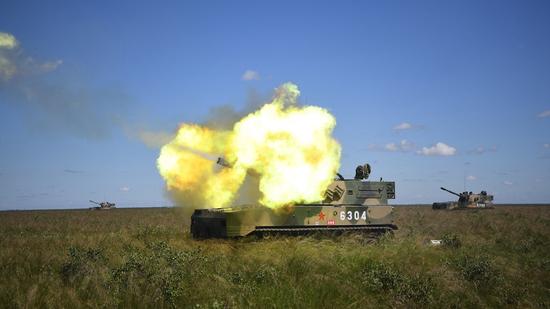 (Photo/CGTN)
According to Sen. Col. Li Hongchao from the Command Headquarter Of PLA In Vostok-2018, just in the training before the final drill, over 100,000 shots of various shells and ammunition will have been fired.
Such a huge consumption of shells is also a challenge for the soldiers.
For He Yaqiang, an artillerist, he and his teammates have to launch almost three shells a minute. "In the first three minutes, we have to fire 12 shells,and we pause for five minutes, then we fire another 32 shells in 10 minutes."
From the final arrival of the last batch of Chinese military equipment in Russia, the Chinese army started training on foreign soil for two weeks since August 29.
"The biggest problem for equipment maintenance is the location," said Huang Wei, head of Logistics of PLA 78th Army Corps. "At home, we have garages and factories but here in the wild with such strong dusty winds we made very careful plans beforehand to make them work in all situation," he added.