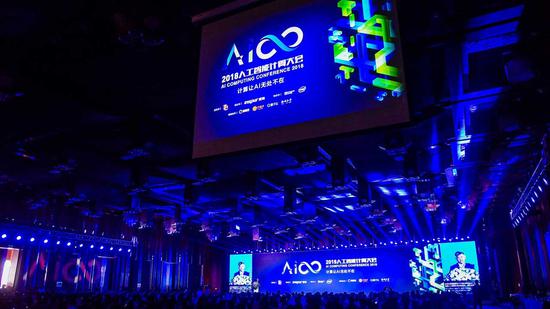 The AI Computing Conference 2018. (CGTN Photo)
The best artificial intelligence often comes from observing real human behavior. This trend is growing in China, as experts gathered to discuss ways to create better robot eyes and brains at a conference in Beijing on Wednesday.
As we all know, robots use cameras as "eyes" to obtain visual data. But the eyes are still too dumb to extract any useful information out of what they see, explained Gao Wen, a professor from Beijing University and member of the Chinese Academy of Engineering.
"We should not give all the burden to the cloud," Gao told the conference. "The camera can be modified to filter out useless info. In other words, the eyes can focus on important things like human eyes."
To make the cameras smart, Gao said, the engineers should switch the controlling chip to an AI powered version.
Another part to optimize is the robot brain, or the AI chip. "We can develop better AI chips with the help of AI itself," said Jason Cong, a member of the US National Academy of Engineering.
About the conference
The AI Computing Conference 2018, is being hosted by Inspur, leading data center infrastructure & AI total solution provider, and top 3 Server vendor worldwide per Gartner.
The company also released a report about China's AI development at the conference.
In 2017, AI-related data in China increased by 50 percent, reaching an amazing 20.9 zettabyte (You need a billion 1TB hard drives to store a zettabyte of data).
The computing power tripled in the same year, while investment saw a tenfold jump.
The report also identified the five best cities in China for AI development: Hangzhou, Beijing, Shenzhen, Shanghai and Hefei.
"There is a fierce competition among Chinese cities on AI computing power," said Liu Jun, the AI and HPC manager of Inspur.
"The additional computing power will not only help control traffic and recognize people, but also lead to new industry sectors like smart homes and fully-automatic factories."