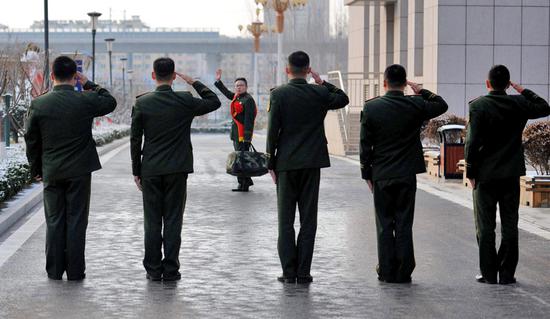 Soldiers from a branch of the border defense forces in Yantai, Shandong Province, see off a demobilized soldier. (TANG KE/FOR CHINA DAILY)
Special: Celebration for China's Army Day
The minister of veterans affairs said his department is making comprehensive efforts to collect information on former service members to better help them after they hang up their uniforms.
The Ministry of Veterans Affairs, which was established in April, will focus on improving the treatment of veterans and helping them find civilian employment, Sun Shaocheng told reporters at a news conference in Beijing on Tuesday - his first media briefing since taking charge of the ministry.
"There was no specific department in charge of veterans affairs before us, so we lack some information and data about veterans," he said. "We must obtain more information to support our decision-making.
"We will improve the welfare system for veterans and families of those who have died in the line of duty, and will link the benefits with each serviceman or servicewoman's performance and contribution while in service."
More than 530,000 personnel will retire from the armed forces this year, according to Sun. To help them with the transition, he said the ministry will make sure more than 80,000 officers and nearly 40,000 soldiers find civilian jobs arranged by local governments and State-owned enterprises.
The ministry will also strengthen its support for more than 400,000 officers and soldiers leaving the armed forces this year who want to find civilian jobs on their own or start businesses, he added.
The ministry is also working to construct a special allowance system for veterans who have been laid off from civilian jobs and have difficulties funding geriatric care and medical services.
Veterans affairs vice-ministers Qian Feng and Fang Yongxiang - a People's Liberation Army major general - also took part in the news conference, which was organized by the State Council Information Office.
Fang said at the news conference that the ministry received nearly 20,000 veterans at its headquarters in Beijing, many of whom had grievances about veterans' benefits, the hardships of civilian life and legal problems.
He noted that the ministry will open a website for veterans to submit their petitions, and will also enhance inspections over local authorities' handling of retirees' complaints and requests.
He also said the ministry will ask State-owned enterprises to reserve 5 percent of jobs on offer during their annual recruitment drives for veterans.
Since the founding of the People's Republic of China in 1949, more than 57 million personnel have left the military, according to the ministry. However, the exact number of living veterans remains unknown, it said.
The ministry is drafting a law on the welfare of military veterans to safeguard their rights and interests.
According to the first draft, the law will focus on resolving difficulties faced by veterans. It will also specify rules for handling veterans' affairs, stipulate responsibilities of authorities and arrange civilian-job training for military retirees.
Additionally, it will set up an award system for veterans and create an assessment system to examine local governments' performance in veterans' affairs.