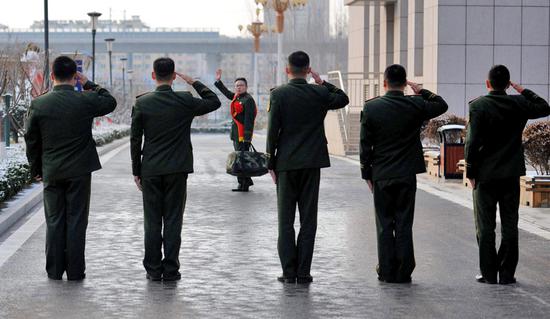 Soldiers from a branch of the border defense forces in Yantai, Shandong province, see off a demobilized soldier. (TANG KE/FOR CHINA DAILY)
The Ministry of Veterans Affairs announced that it is drafting a law to safeguard the rights and interests of military veterans, and it convened a meeting on Thursday to discuss the idea, according to a report by People's Liberation Army Daily.
According to information published after the meeting, the first draft of a law on the welfare of military veterans was developed based on the principle that veterans must be respected and well-treated. It focuses on resolving difficulties faced by veterans, while proposing new institutions for dealing with veterans' affairs. It also embraces proven policies in use by local governments, the ministry was quoted as saying in a statement.
The draft law also specifies rules for handling veteran affairs, stipulates responsibilities of authorities and arranges training for military retirees.
In addition, it suggests that the government should set up an award system for veterans and create an assessment apparatus to examine local governments' performance in veteran affairs, the PLA Daily reported.
Qian Feng, vice-minister of veterans affairs, said at the meeting that the ministry will conduct more research and seek opinions and advice on the law, and will strive to push it through the legislative process as soon as possible.
A PLA human resources researcher who asked not to be named told China Daily that he expects the law to resolve the practical problems of veterans, such as difficulties in finding civilian work or applying for governmental allowances for injuries received while in the military. He said he hopes the law will improve training for retirees.
Senior Colonel Wei Changjin, political commissar of the Zaozhuang Regional Military Command and a decorated veteran, said that better care and benefits, especially for those who have served in tough environments or who have taken part in combat, will help to inspire young soldiers and encourage them to dedicate themselves to the military.
China has more than 57 million veterans, and the number is increasing by hundreds of thousands annually.
The Ministry of Veterans Affairs was created to safeguard the rights and interests of military personnel and their families, to improve the service and management system for retired personnel and to make military careers more respectable, the government said.
Before its establishment in April, a number of government and military departments - the Ministry of Civil Affairs, Ministry of Human Resources and Social Security and two bodies under the Central Military Commission - were involved in the management of veterans affairs.
Meeting with national legislators from the military in March, President Xi Jinping, who is also chairman of the Central Military Commission, said the country must guarantee that military personnel and veterans are respected. He called this a fundamental principle.