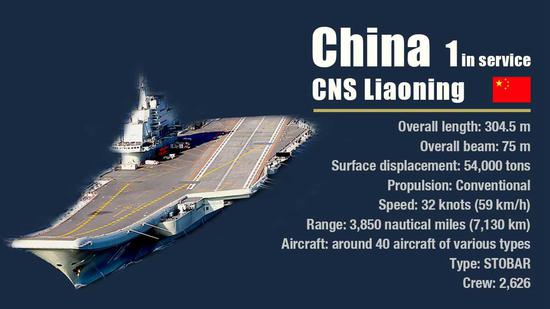 (CGTN Photo)
The Chinese navy flotilla, including the country's first aircraft carrier Liaoning, has gained initial systematic combat capability, China's National Defense Ministry said Thursday.
Since the Liaoning aircraft carrier was commissioned into the People's Liberation Army Navy in 2012, it has conducted a series of exercises including open-sea operations according to plan, said ministry spokesperson Ren Guoqiang.
The exercises effectively tested the building and maintenance of the formation's comprehensive attack and defense systems, noted Ren.
The Liaoning is a refurbished former Soviet aircraft carrier that went through eight years of retrofitting. It is conventionally powered with steam turbines.
With a total flight deck area of more than 15,100 square meters, the vessel is divided into a launching area, a recovery area and a parking area.
It is capable of carrying different types of aircraft, including the J-15 fighters, as well as surveillance and anti-submarine helicopters. Its weapon platforms include anti-air missiles, close-in weapon systems, and anti-torpedo systems.
SCO members to enhance military cooperation in the 2nd half of 2018
Ren said the Shanghai Cooperation Organization (SCO) will hold "Peace Mission-2018" war games in the second half of this year and delegations from member countries have held the third-round talks to discuss detailed arrangements.
China is willing to continue exchanges and cooperation with member states in the field of defense and security on the basis of mutual trust and mutual benefits, said the spokesperson.
Ren called on all SCO members to increase the ability to jointly cope with new challenges and new threats, promote SCO's defense and security cooperation, and play active roles in maintaining peace and stability in the region.