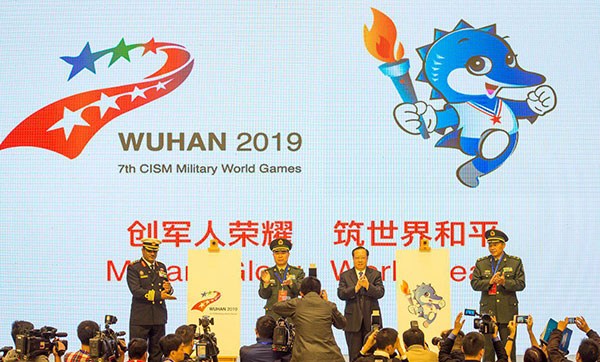 The emblem and mascot of the 7th Military Games are unveiled in Wuhan, Hubei province on Friday. Provided to CHINA DAILY
China will host the 7th Military World Games - the Olympics for military personnel - in Wuhan, Hubei province, from Oct 18 to 27, 2019, the Defense Ministry said on Friday.
More than 8,000 military athletes from more than 100 countries will participate in 27 major sporting events, said ministry spokesman Senior Colonel Wu Qian.
"It is a great platform to showcase each military's image, form friendships, and expand their international influence and prestige," he said.
"It is also a great honor for Wuhan, and the Chinese military will take this opportunity to facilitate friendly exchanges with foreign militaries, and contribute to building a community of common destiny," he added.
The event's insignia, mascots, slogan and website were also unveiled on Friday.
The insignia consists of a dove, a star, ribbons and other design elements.
The mascot is called Bing Bing ("bing" also means soldier in Mandarin), and is based on the Chinese sturgeon - a critically endangered and strictly protected fish that has existed for more than 140 million years.
The slogan is "forging military glory, building a peaceful world". All of these elements showcase the Chinese military's shared friendship and aspiration for world peace with foreign militaries, Wu said.
Military World Games first took place in Italy in 1995, and the latest was in the Republic of Korea in 2015.
The International Military Sports Council, the game's organizing committee, now has 136 participating members, making it the biggest military sports organization in the world.