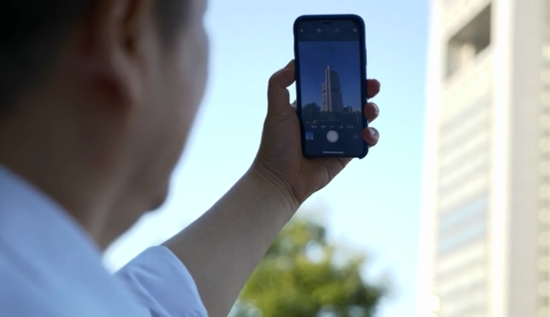 Zou Yi takes a picture of Beijing TV Station every day since January 27, 2013 to record Beijing's air quality. (CGTN Photo)
Special: 70th birthday of PRChina
Editor's note: September 16 is the International Day for the Preservation of the Ozone Layer. In this episode of "Come Together" series, CGTN looks at how the Chinese capital city of Beijing is moving forward to be pulled out from the list of the world's top 200 most-polluted cities through years of efforts.
Every day, Zou Yi takes a picture of Beijing TV Station, a landmark building located in downtown Beijing. He has been keeping a record of Beijing's air quality and sharing his photos on social media accounts since January 27, 2013. He has posted 2,391 photos, as of August 15, 2019.
"They are not merely pictures. They are archives of Beijing's air quality. They show how the air quality has changed since 2013," Zou Yi, Founder of BeijingAirNow, told CGTN.
At the beginning of 2013, the Beijing-Tianjin-Hebei Region and its surrounding areas recorded severe air pollution five times in a month. The Chinese capital where Zou lives was shrouded in heavy smog.
"People were demonizing the smog at that time. They called Beijing a 'smoggy' and 'toxic' city. Unfortunately, there wasn't any reliable explanation to the cause of smog. So, that's why I started taking pictures, allowing pictures to 'tell' the truth," Zou recalled.
The 10-meter-long reel that Zou displayed at his home consisted of 2,164 photos. In his eyes, it was the best demonstration of Beijing's air quality situation in the past five years. This is why he named his collection "Leaping to the Eye."
"A picture is better than a thousand words. This collection tells us the reasons behind air pollution and the efforts we've made to cope with it," Zou said.