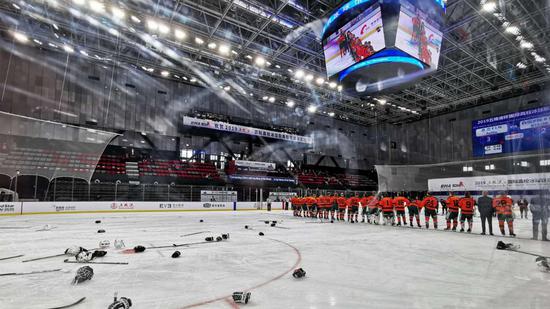 The ice hockey venue inside Shougang Park. (CGTN Photo)
February 4, 2022, marks the opening ceremony of 2022 Winter Olympic Games, which will be held in Beijing and Zhangjiakou City in neighboring Hebei Province. China's capital, Beijing, will become the first city to have hosted both the Summer and Winter Olympic Games.
Once an iron and steel giant in China, Shougang Group relocated their factory from Beijing to Tangshan City in neighboring Hebei Province in 2010 in line with the national strategy introduced ahead of the 2008 Beijing Olympics and industrial transformation of the steel and iron industry.
In 2016, the Beijing Organizing Committee for the 2022 Olympic and Paralympic Winter Games moved into Shougang Park. Ever since then, Shougang started to rebuild its factory workshops and warehouses into ice sports venues to ensure the daily training of China's national teams. Since the architects decided to keep the framework of the original steel factories, the four training halls, also known as the "four ice blocks" used for curling, figure skating, short track speed skating and ice hockey, show an unprecedented architectural design dubbed "ice venues with industrial characteristics."
Not just the buildings transformed, but so did the staffers at Shougang Group. Many of the first frontier mill men, welders and forklift drivers have undergone a significant career change to icemakers, tourist guides, security guards, or hotel managers.
Liu Boqiang, a staffer at the Shougang Park's Sports Management Center, has been working for the Shougang Group for 22 years after graduation in 1996. Liu used to be a mill man at the Shougang steel and iron factory but is now focusing on ice making, sweeping, and the maintenance of the four ice sports venues' rinks.
"After shutting down the engines, some workers chose to relocate to Shougang's other manufacturing site in Tangshan, and the rest chose to stay in Beijing. The laid-off workers were upset because the giant steel and iron factory had never been this quiet," Liu Boqiang said. Every time he recalls that time, pictures are vividly flashing before his eyes. Liu explained how the workers had a hard time adapting to the change without knowing what their next step was.
In 2017, Liu attended a three-month-training at the Beijing Capital Stadium and learned basic knowledge about ice making and rink maintenance for ice sports. "All the workers who stayed in Beijing faced difficulties during that transition period. We had to keep pace with the times, with the transition of the Shougang Group, and acquire new skills even though we weren't young anymore," Liu said.
"Before Shougang stopped production, I had thought that at least in everyday life, there was no instability and nothing to worry about. However, this transformation has influenced me a lot."
Liu mentioned that ice maintenance for curling rinks needs more manual work than machinery ice sweeping. "Take pebbling, for instance, I used to practice pebbling on the road outside our venue every day for two hours in the summer," Liu said. Jamie Bourassa, the chief ice technician at the Canadian Curling Association said Liu's skills had improved a lot. "That recognition strengthened my determination to study icemaking techniques, and confirmed that my choice to switch from fire to ice is correct."
Jiang Jinyu, an Olympic tourist guide at the Shougang Park, is also changed careers just like Liu Boqiang. Jiang used to be a forklift driver at the Shougang steel and iron factory and chose to stay in Beijing after the factory shut down its last engine in 2010. "The mental transition is the hardest part. We used to work with machines, coal, steel and iron, but now I have to talk to people a lot every day and make visitors feel welcome in our Park."
To tell visitors the history of Shougang Park since 1919, Jiang has read a lot of material, spoken with elderly workers, and visited every corner of the factory, to see the old plants, blast furnaces and other industrial buildings.
Liu and Jiang are among the 16,000 workers who have changed careers from first frontier factory workers to serve the 2022 Winter Olympics. The transformation of the Shougang Group from a steel and iron giant company into an innovative and environmentally friendly multi-functional inner-city park first put them in a situation of instability or uncertainty, but now, it gives them new hope.
"I feel so honored to serve the national teams, and the work ethic of our national players is inspiring to me," Liu Boqiang said, adding, "I need to improve my skills and provide players with a better service. My dream is to be a part of the ice technician team for the 2022 Winter Olympics in Beijing."