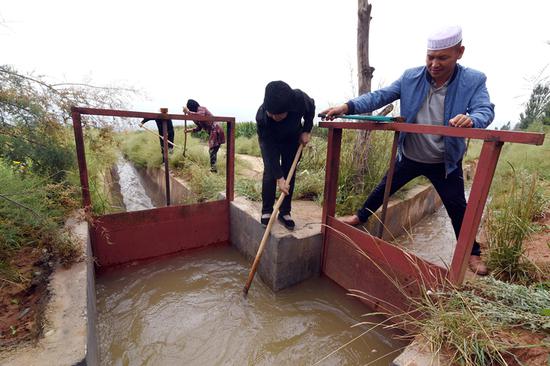 A woman from the Hui ethnic group helps clear an irrigation channel in Hualong Hui autonomous county, Qinghai province. (Photo By Deng Jia / Asian Development Bank)
Special: 40 Years of Reform
Electric blues
Situated in the northeast of the Tibetan plateau, Qinghai is the source of the Yellow, Yangtze and Lancang rivers.
The landscape's features - high mountains, valleys and basins - resulted in many reservoirs and hydroelectric power stations being built to raise water storage capacity and generate electricity.
However, a 2006 report by the Party School of the Central Committee of the Communist Party of China showed that rather than alleviating poverty the dams had entrenched low standards of living in the Yellow River Valley.
The dams flooded a vast amount of farmland, and local farmers faced an extra challenge because they were required to pay 120 to 150 yuan every year for the electricity used to irrigate every 667 sq m of farmland they cultivated.
Local agriculture has been far too dependent on electricity, according to Ma Xin, production manager of the Yellow River Vegetable Basket, a vegetable producer in Haidong city, Qinghai, which operates more than 800 greenhouses in the region.
More water, less poverty
A year after the successful application for construction of the water management project in 2006, the central government formally added the initiative to a list of projects funded by low-interest loans provided by the Asian Development Bank.
The bank, which provided $60 million for the building of four main canals that start at the Lijia and Gongbo gorges and run for 105.5 kilometers in total, finished its evaluation procedures within three years. Construction work started in 2011.
"Both the government and the bank accelerated their normal work rates," said Qiu Jihui, an official at the water resources office who oversees foreign-funded projects.
"That showed they were both convinced that the irrigation project would bring economic and social benefits."
Improving the efficiency of water use will boost agricultural productivity by bolstering irrigation management and agronomic practices. That will allow farmers to grow cash crops in addition to subsistence crops, and raise incomes, according to experts.
"People are excited," said Ye Xiang, deputy head of Hualong, recalling how crowds of locals watched when the ditches were put into trial operation. "They had never seen so much water."
With a flow rate of 2.85 to 3.5 cubic meters per second, irrigation will become more flexible, which will allow farmers to irrigate according to their needs and at their convenience.
"Now we will be able to water whenever we want," said Han Zhong, head of Qunke village in Hualong.
More than 200 hectares of previously arid land are expected to become new farmland as a result of the improvements, with much of the land suitable for planting vegetables. That will mean 667 sq m could produce annual yields worth about 3,000 yuan, at least three times the amount the farmers can make from growing and selling wheat.
Livestock farmers will also benefit from the provision of more and cleaner water.
For example, every cow in Ma Yuan's farm in Hualong will be able to drink an extra 10 liters of water per day, which will raise its weight by 40 to 50 kg. Before, the alkaline water in the local well upset the cows' digestion.
"If there is not enough water, there is no way to eradicate poverty," Ye, the deputy head, said.
Hualong, Jainca and Xunhua are designated as State-level poverty-stricken counties, so the new water supply will help to raise living standards.
The environment has also been taken into account.
The project planners decided to change the original route to protect local forests and avoid the use of explosives to force tunnels through a mountain that is home to the Zongneng Temple, a renowned Buddhist sanctuary.