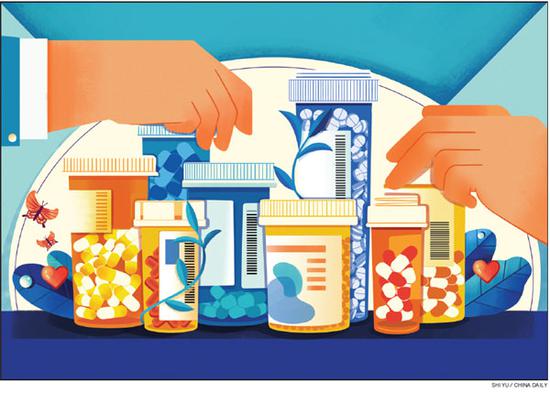 Availability of key drugs gets boost as services enhanced
Another 187 medicines, including 22 specifically for children and 12 to fight cancer, will be added to the national list of essential medicines, bringing the number of items on the list to 685, double the figure for 2009, the year it was introduced.
The move was determined at a State Council executive meeting, presided over by Premier Li Keqiang on Aug 30, to further improve the access to essential medicine and push forward medical reform, a statement released after the meeting said. Experts also said it will strengthen basic medical services for the public.
According to the World Health Organization, essential medicines are selected in accordance with public health requirements, evidence on their efficacy and safety, and comparative cost-effectiveness.
Essential medicines should be available at all times, in appropriate dosage forms, with assured quality and adequate information, and at a price the individual and the community can afford, according to the organization.
Price reduction for these medicines was also targeted at the meeting when the central government decided that public medical institutions will buy in bulk to cut prices. Meanwhile, some essential medicines that are used in small amounts and probably in short supply will be produced in designated sites and stored, the statement said.
The list's adjustment should focus on major diseases that severely affect public health, Li said at the meeting. For the public, there is nothing more important than their lives and health, Li stated, adding that local governments and State Council departments should fulfill their responsibilities to strengthen quality control of medicines and ensure supply.
Yu Huayang, a doctor at Suixi County Hospital of Traditional Chinese Medicine in northern Anhui province, applauded the updated list, particularly the inclusion of more essential medicines into the medical insurance reimbursement system.
"It will be good for patients as they will benefit from reduced costs and sufficient supplies," Yu said.
Yu's view was echoed by patients in less-developed regions. Liang Yiyu, a 32-year-old teacher in the county of Suixi, said the medical bills can be reimbursed up to 80 percent.
Jiang Yu, a researcher at the Development Research Center of the State Council, said the adjustment was made at the right time.
The national system of essential medicines was introduced in 2009, one of the five major tasks set for China's medical reforms, Jiang said. The system, which stemmed from a shortage of supplies in other countries, was designed to advance systematic reform of medical care in China, he said.
At that time, some regions, especially rural areas, and central and western China, still had not enough medical supplies, and the system was to ensure all patients had adequate access to essential medicines, said the researcher. In the past few years, the system had helped halt illegal uses of medicine in some grassroots medical institutions, Jiang said.
Now the main issue of the essential medicine system is insufficient types of new medicines, as the public's demand has risen for higher quality medical services, he said.
As medical reforms proceed, the government encouraged patients to be treated at grassroots medical institutions to ease the pressure on key hospitals. Therefore, it's necessary for the government to renew the list of such medicines to meet new demands, Jiang said. The renewed list of essential medicines will help achieve that goal, he said.
In addition, China has a number of patients with rare diseases and should ensure supplies of the medicine to treat them, he said.
"These medicines are rarely used in one hospital, but when you look at the whole country, it's a large consumption of these medicines," Jiang said. "Therefore, designated production and large purchases will keep factories running and help reduce costs."